White, AW
(1881 - 1916)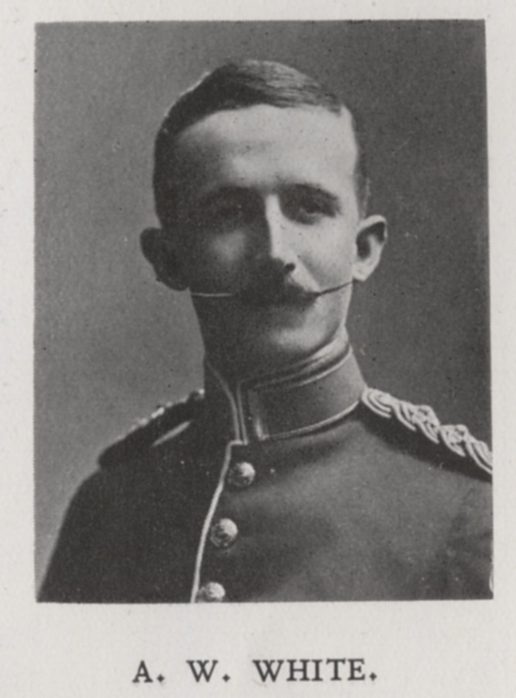 Key Facts
DATE OF BIRTH:
13th February 1881
YEARS ATTENDED THE COLLEGE:
1893 - 1898
HOME ADDRESS WHEN AT THE COLLEGE:
The Hollies, 31 North Side, Clapham Common
REGIMENT
117th Marathas, Indian Army
FINAL RANK:
Major
DATE OF DEATH:
7th April 1916
AGE AT DEATH:
35
WHERE HE DIED (or was wounded)
Sana-i-yat
LOCATION OF GRAVE OR MEMORIAL:
Basra Memorial. Panel 50 and 66
Major Arthur Wilfred White
Arthur was born in Clapham on February 13th 1881, the son of an advertising agent who was also named Arthur White. He spent almost six years at the College, joining at the start of 1893 and leaving at the end of 1898, and after he left took up a place at Sandhurst. Upon passing out he joined the Indian Army, where he was assigned to a Maratha regiment. He saw his first active service at Aden, in what is now Yemen, and would go on to spend the majority of the rest of his career serving in and around Arabia and the Persian Gulf. In 1903 and 1904, whilst stationed at Jask in modern-day Iran, he led two successful expeditions against local gun runners, during the latter of which he was seriously wounded. In 1909 he was promoted to Captain and, in the early part of 1914, he was officially commended for the first time, being mentioned in despatches for his role in engagements near Basra.
When war was declared in late summer of that year Arthur was in Pune, India, only to be assigned at once to Mesopotamia. During his first action of the war, at Shaiba in April 1915 his unit took seventy-two prisoners, and he was awarded the Military Cross, in honour of his "conspicuous coolness and gallantry in leading his men". He fell ill with appendicitis shortly afterwards, albeit after undergoing an operation at Basra he was able to successfully return to his command. On April 7th 1916 he was killed whilst attempting to lead his men against the Turks who were entrenched at Sana-i-Yat, part of a wider effort to relieve the siege of Kut. He was survived by his widow Frances.