Ransford, LB
(1899 - 1918)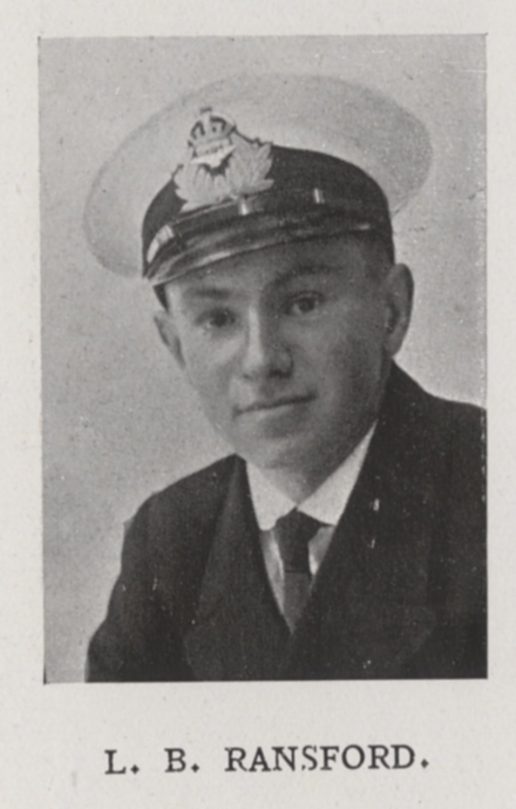 Key Facts
DATE OF BIRTH:
3rd May 1899
YEARS ATTENDED THE COLLEGE:
1912 - 1917
HOME ADDRESS WHEN AT THE COLLEGE:
16 Mowbray Road, Norwood
REGIMENT
Royal Naval Air Service
FINAL RANK:
Flight Sub Lieutenant
DATE OF DEATH:
18th March 1918
AGE AT DEATH:
18
WHERE HE DIED (or was wounded)
St Quentin
LOCATION OF GRAVE OR MEMORIAL:
St. Souplet British Cemetery III D 7
Flight Sub Lieutenant Lionel Bolton Ransford
Lionel was born on May 3rd 1899, the eldest of four surviving children born to Amy Ransford and her husband Robert, a patent agent, who was himself an OA and, from 1906, a College Governor. The family connection to the College ran very deep, as not only was Lionel's father an OA, but four of his uncles were too, and, eventually, twelve of his cousins. He started his time at Dulwich in the spring of 1912, having previously been at Cairnburn School, Norwood, and went on to be a pupil for the next five years. By the time he left in the summer of 1917, at which point he was a member of the Science Remove, he had, somewhat unsurprisingly, been joined at the College by his two younger brothers, Alan and Robert. At Easter of 1917 Lionel was on holiday at Southwold in Suffolk when he, along with his friend Ronald Cowell, were mistakenly arrested for being German spies. The confusion had originated when a local man had overheard the two schoolboys practicing Latin declensions, something he mistook for a coded conversation, and was only cleared up several hours later when Lionel's parents arrived at the Police station and were able to fully corroborate his story.
He had been applying for a position in the Royal Naval Air Service while he was still at Dulwich and, indeed, it was being accepted for the Service in June 1917 which prompted him to leave in order to join up with his new unit at Crystal Palace. The next month Lionel travelled over to Vendome, in France, where he was taught how to fly. That October he qualified and was assigned to No. 5 Squadron, where he was to serve as a Flight Sub-Lieutenant. In January 1918 the Squadron was posted to Dunkirk, and for the next couple of months flew raids on Zeebrugge and other coastal locations before, that March, being reassigned to St Quentin. It was while flying a mission from here that, on March 18th 1918, Lionel and his aircraft went missing. He was later officially ruled to have died on that date. Of the many Alleynians among his relations, only one other fell in the War, his first cousin once removed Lawrence Carpmael, who had been killed at Vimy Ridge in April 1917.