Halahan, HC
(1883 - 1918)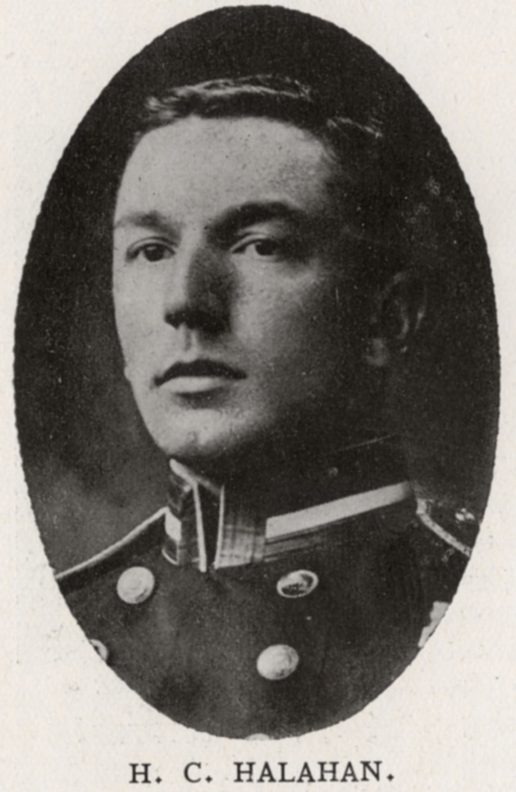 Key Facts
DATE OF BIRTH:
11th June 1883
YEARS ATTENDED THE COLLEGE:
1895 - 1897
HOME ADDRESS WHEN AT THE COLLEGE:
Haighlands, 67 Sydenham Hill
REGIMENT
Royal Navy
FINAL RANK:
Captain
DATE OF DEATH:
23rd April 1918
AGE AT DEATH:
34
WHERE HE DIED (or was wounded)
Zeebrugge
LOCATION OF GRAVE OR MEMORIAL:
Chatham Naval Memorial, 27
Captain Henry Crosby Halahan
Born on June 11th 1883 Henry was the fifth of sixth sons born to Army Doctor Samuel Halahan and his wife, Hannah, all six of whom would go on to be Alleynians. Henry's time at the College lasted for two years, between 1895 and 1897, and after leaving he joined the Royal Navy. He was at first aboard H.M.S. Britannia, being promoted to Midshipman in 1898 and subsequently going out to China, where the Britannia and her crew were involved in putting down the Boxer Rebellion, for which he was awarded the China Medal with bar and also mentioned in despatches. He subsequently was promoted to Lieutenant in 1902, and then Gunnery Lieutenant in 1906, by which point he was stationed in the Mediterranean. Whilst serving aboard H.M.S. Minerva, he was part of the relief effort for the 1908 Messina earthquake in Southern Italy, and also acted as a judge for the Army vs. Navy boxing matches at Malta in 1908, 1909 and 1910. After this he returned to home waters and was appointed Gunnery Staff Officer for the Second and Third Fleets.
When the war began in the summer of 1914 Henry was serving as Commander of the Gunnery School at Chatham, but was soon made Captain of H.M.S. Bustard, charged with bombarding the German right flank from off the Belgian coast. That December he was moved to a shore posting and placed in charge of the Naval Siege Guns on the Flanders coast, a position he was to hold for most of the next three years, apart from two months in the late summer of 1915 spent on special service in Italy. In early 1918 he was placed in command of The Bluejackets, a naval unit specialising in close quarters combat. He was personally leading his unit during the raid on Zeebrugge, on April 23rd, when he was killed in action, being buried at sea the following day. His service during the war had seen him awarded the D.S.O., mentioned in despatches twice, as well as receiving commendations from the nations of Belgium, Italy and France. His younger brother, Robert, a fellow Royal Naval officer, had been lost at sea aboard the submarine E18 two years earlier. Henry was survived by his wife, Brenda, and their two sons.