Clark, HA
(1884 - 1916)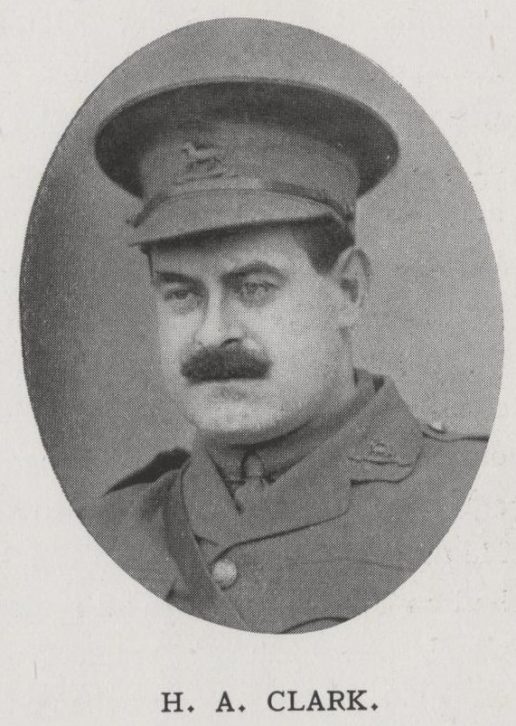 Key Facts
DATE OF BIRTH:
23rd May 1884
YEARS ATTENDED THE COLLEGE:
1896 - 1902
HOME ADDRESS WHEN AT THE COLLEGE:
96 Loughborough Road, Brixton
REGIMENT
24th (The Queen's) Battalion, London Regiment
FINAL RANK:
Captain
DATE OF DEATH:
15th September 1916
AGE AT DEATH:
32
WHERE HE DIED (or was wounded)
Bazentin-le-Petit, Somme
LOCATION OF GRAVE OR MEMORIAL:
Bazentin-Le-Petit Communal Cemetery Extension. F 5
Captain Horace Arthur Clark
Horace was born on May 23rd 1884, the son of chartered accountant George Clark and his wife Chirston, and was the youngest of four Clark boys to attend Dulwich. During his time at the College he particularly distinguished himself as a marksman, spending his final two years in the Shooting VIII, and in the 1901 Ashburton Shield competition at Bisley attaining a maximum possible score from 500 yards, and setting what would go on to be a long standing Dulwich record for overall total in the competition. After leaving Dulwich he took up a position as a salesman with a drapery firm, but was also a prominent member of the army reserves. In 1904 he had joined the Tower Hamlets Volunteer Rifle Corps, in which his elder brother George was already serving as a Captain; three years later, with the formalisation of the Territorial Force, both became members of the 17th Battalion London Regiment, with Horace taking a promotion to Lieutenant as well. In 1912 a lack of time led to him surrendering his position, but world events were soon to draw him back into the military fold.
Shortly after the outbreak of war he joined up formally, and was assigned to the 24th Battalion London Regiment, with whom he went out to the front in June of the following year. In August 1915 he was made Captain, originally on a temporary basis. George was wounded at Vimy Ridge in June 1916, but was soon back in the trenches. This was not to be for long however, as on September 15th he was killed in action near Bazentin-le-Petit on the Somme. His brother George, a fellow OA, had also died earlier the same year.