Valentine, J
(1887 - 1917)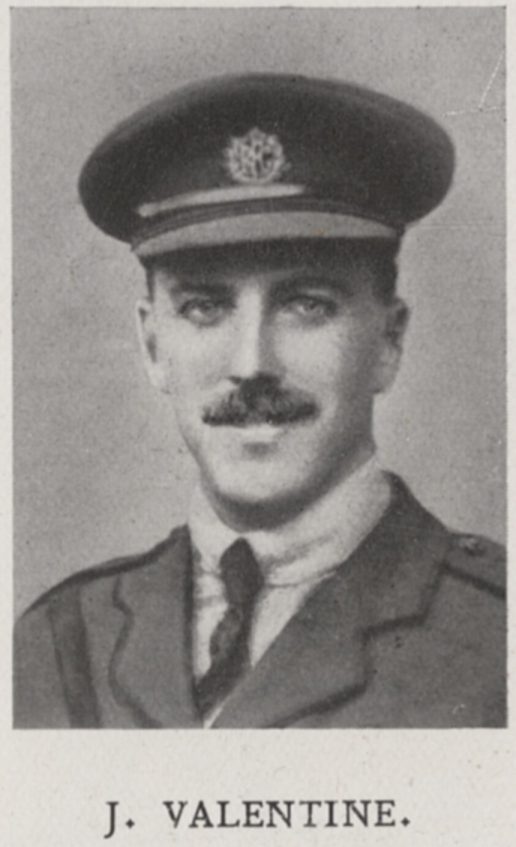 Key Facts
DATE OF BIRTH:
22nd August 1887
YEARS ATTENDED THE COLLEGE:
1900 - 1903
HOME ADDRESS WHEN AT THE COLLEGE:
73 Streathbourne Road, Upper Tooting
REGIMENT
Royal Flying Corps
FINAL RANK:
Lieutenant Colonel
DATE OF DEATH:
7th August 1917
AGE AT DEATH:
29
WHERE HE DIED (or was wounded)
Kieff (modern day Kiev)
LOCATION OF GRAVE OR MEMORIAL:
Archangel Memorial.
Lieutenant Colonel James Valentine
Jimmy was born on August 22nd 1887 the only child of James Valentine, managing director of an insurance company, and his wife, Fanny. He joined the College at the start of 1900, at the age of 12, and was a pupil for the best part of four years, leaving at the end of 1903, whilst a member of the Engineering 5th. When he first left school he was interested in the motor industry and was for several years heavily involved. When aeroplanes began to emerge, however, he immersed himself in the new technology, and in 1910 was involved in the production of a biplane with a Mr. R.F. Macfie, after whom the model was named. On New Year's Eve that year he became a fully qualified pilot, one of the first fifty people in Britain to do so. The following year, 1911, he was one of only nine pilots, and the only Briton, to complete the Circuit of Europe, a stage race around France, Belgium, the Netherlands and Southern England, organised by French newspaper Le Journal. A few weeks later he was involved in another race, this time around Britain, organised by the Daily Mail, in which he came third. Throughout this period however, due to the difficulty of earning a living in the nascent aeroplane industry, he was still employed in the motor trade.
When war was declared in 1914 he enlisted as a member of the Royal Flying Corps and spent much of the early period of the conflict in France where he primarily used many of his contacts from the motor industry to help in the procurement of materials and expertise to advance British aircraft building, although he did also still fly active service missions. In September 1915 he was promoted to Captain, then later to Major, and ultimately Lieutenant-Colonel. By the time of the last promotion he was serving in Russia, attached to the British Flying Detachment, where his activities included leading their retirement to Proskuriv, modern-day Khmelnytskyi, in Ukraine. On July 24th 1917 he took leave in Kiev, believed to be suffering from exhaustion; it turned out to be a serious illness however, very likely dysentery. Despite an operation intended to relieve his symptoms, Jimmy passed away on August 7th 1917. His conduct throughout the war, and the international nature of his service, meant that he received many honours, including the D.S.O., as well as the Legion d'Honneur, and multiple commendations from the Russian Government. He was survived by his widow, Louisa, who spent much of the war working in a military hospital in Paris.