Teesdale, FR
(1880 - 1916)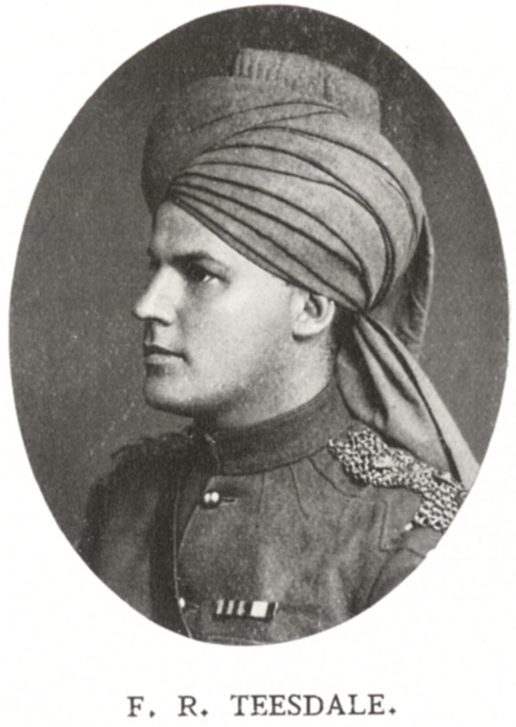 Key Facts
DATE OF BIRTH:
18th March 1880
YEARS ATTENDED THE COLLEGE:
1894 - 1898
HOME ADDRESS WHEN AT THE COLLEGE:
St. Margaret's, 117 Thurlow Park Road, West Dulwich
REGIMENT
25th Cavalry, Indian Army
FINAL RANK:
Major
DATE OF DEATH:
17th March 1916
AGE AT DEATH:
35
WHERE HE DIED (or was wounded)
London
LOCATION OF GRAVE OR MEMORIAL:
Walton-On-The-Hill (St. Peter) Churchyard
Major Frank Robinson Teesdale
Born on March 18th 1880, Frank was one of six children of a civil servant, Marmaduke Teesdale, and his wife, Elise, who had been born in Stuttgart, Germany. The family had particularly strong Dulwich connections as not only did Frank and two of his brothers, Marmaduke and Charles, attend the College, but their sister Elsie married a fellow OA named John Dolbey, and their father was also an Estates Governor, serving from 1892 until 1905, the last two years as Chairman. Frank's time at the College started in the spring of 1894 and lasted for the next four years, leaving in April 1898; at this time he was a member of the Army Class and had spent the previous summer playing for the 2nd XI cricket team. From Dulwich he went on to take up a place at Sandhurst, passing out in the summer of 1899 to take up a commission with the Cheshire Regiment. In December 1900 he was promoted to Lieutenant before transferring to the Indian Army the following April. Once in India he was posted to the North-West Frontier where he served throughout the remainder of 1901 and much of 1902, as well as taking part in the Mohmand Expedition of 1908. Shortly after this he was promoted to Captain and subsequently underwent a period training at the Indian Staff College, Quetta.
When war broke out in 1914 Frank returned to Europe as part of the Indian Expeditionary Force and spent 18 months serving on the staff of General Rimington, during which time he was promoted to Brigade Major. In January 1916 he was suspended from his duties as a result of failing eyesight, something which had been threatened since a fall from horseback in 1910. He underwent an operation intended to correct this, but it caused a swelling in his brain, from which he passed away on March 17th 1916, without having regained consciousness.