Spink, HO
(1878 - 1916)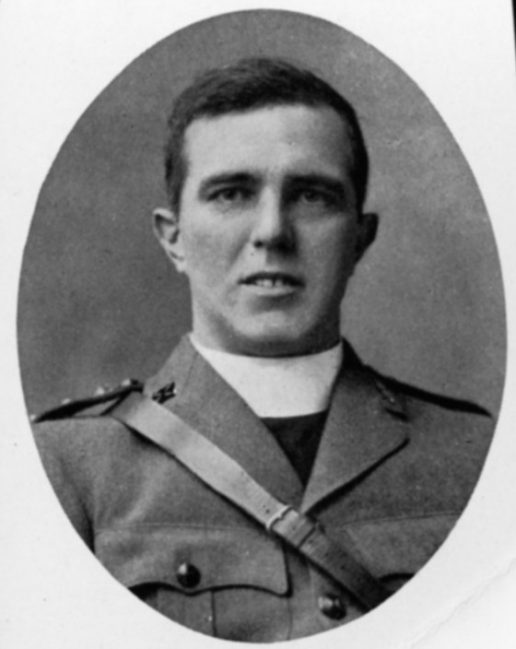 Key Facts
DATE OF BIRTH:
20th January 1878
YEARS ATTENDED THE COLLEGE:
1889 - 1894
HOME ADDRESS WHEN AT THE COLLEGE:
Burnley Lodge, 88 Alleyn Road
REGIMENT
Royal Army Chaplains Department
FINAL RANK:
Chaplain To The Forces 4th Class
DATE OF DEATH:
9th August 1916
AGE AT DEATH:
38
WHERE HE DIED (or was wounded)
Delville Wood
LOCATION OF GRAVE OR MEMORIAL:
Dive Copse British Cemetery, Sailly-Le-Sec. II D 46
Chaplain To The Forces 4th Class Hubert Octavius Spink
Born on January 20th 1878, Hugh was the eighth of ten children born to Joseph Spink, a Bank of England employee who would ultimately serve as Principal of the Issue Department, and his wife, Lucy. Having previously been at the Prep, he started at the College in May 1889 at the age of 11, at the same time as his brother, Argent. He left at the end of 1894 and was at first working in the London & South Western Bank, but worked there for only a year or so before taking up a position at another bank, Lloyd's. During this period he was also the President of the O.A. Gymnastics Club. In 1902, however, he gave up his life in the City in order to become a priest, undergoing a course of preparation at St. Aidan's College, Birkenhead, before taking orders in 1904. Following this Hugh was appointed Curate at a church in Edgehill, Liverpool, but also studied at Durham University, earning a B.A. in Literature with Theology in 1907, as well as being crowned University Champion in the shot put. In 1909 he went out to Hong Kong where he served for three years as Vicar of St. Andrew's in Kowloon; during this time, he was not only awarded an M.A. in absentia by Durham, but also founded the first scout troop in Hong Kong. After three years he returned to England and was appointed Vicar of St. Clements, in Toxteth Park, Liverpool.
After Britain went to war in 1914 Hugh began to see more and more of the young men who made up his congregation volunteer for military service and greatly desired to sign up and fight alongside them; something which he was expressly prohibited from doing by the Bishop of Liverpool. As a result, he joined the Army Chaplains' Department and in January 1916 went to the front for the first time, attached to the 1/5th Battalion, South Lancashires. After several months serving near Arras he was deployed on the Somme that July. On the night of August 9th he was helping tend to the wounded and bury the dead near Delville Wood when he was killed by a shell explosion. He is now buried in the cemetery at Dive Copse, near Albert.