Shott, HH
(1877 - 1914)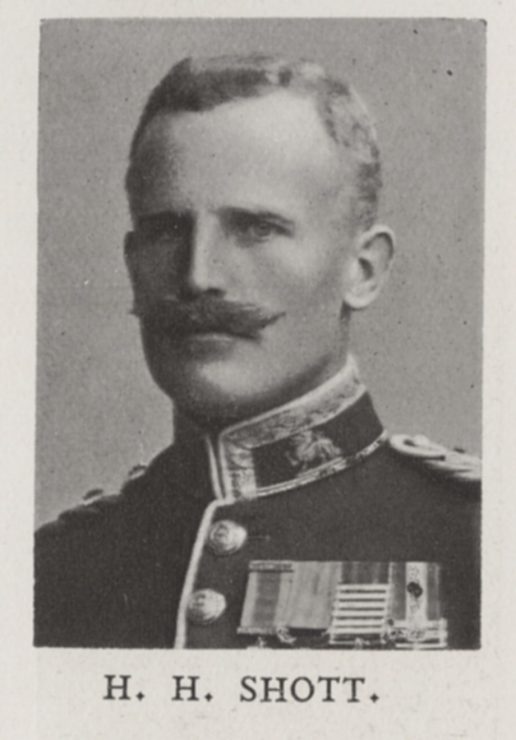 Key Facts
DATE OF BIRTH:
13th October 1877
YEARS ATTENDED THE COLLEGE:
1890 - 1892
HOME ADDRESS WHEN AT THE COLLEGE:
71 Cornhill
REGIMENT
1st Battalion, Royal Berkshire Regiment
FINAL RANK:
Captain
DATE OF DEATH:
26th August 1914
AGE AT DEATH:
36
WHERE HE DIED (or was wounded)
Le Cateau
LOCATION OF GRAVE OR MEMORIAL:
Maroilles Communal Cemetery
Captain Henry Hammond Shott
Born on October 13th 1877 as Henry Schjott, he was the second son of maritime insurance agent Nils Schjott, originally from Norway, who had been made a naturalised British citizen a month before Henry was born, and his London-born wife, Marianne. Henry came to Dulwich in 1890 and was a pupil for two and a half years, leaving at the end of 1892. After leaving he joined the Army and was sent to Southern Africa. There he took part in the Matabele Campaign of 1896 before going on to serve throughout the Boer War as a member of Bethune's Mounted Infantry, being promoted to 2nd Lieutenant during the conflict. Henry was highly commended for his war service, not only being mentioned in dispatches three times but also being awarded the D.S.O. in 1902. After hostilities came to an end he was transferred to the Royal Berkshire Regiment, with whom he was posted to the West African Field Force and shortly afterwards promoted to Lieutenant. In 1906 he was mentioned in dispatches once more, this time for his work in Northern Nigeria and subsequently, in 1911, was promoted to Captain. In 1913 he left the West African Field Force, returning to England, where he became a fully qualified pilot.
When war broke out the following year Henry and his regiment were mobilised at once and were part of the first British Expeditionary Force to be sent to the continent in August 1914, serving through the retreat from Mons. On August 26th, during an attempt to reclaim a bridge at Le Cateau, he was posted missing and was later officially declared to have died on that date; this means that he is believed to be, alongside Captain Hans Sparenborg, one of the first two OAs to die in military service during the War. He was survived by his widow, Hazel, originally from Yonkers in New York state, whom he had married just over two months before his disappearance.