Savage, FV
(1890 - 1917)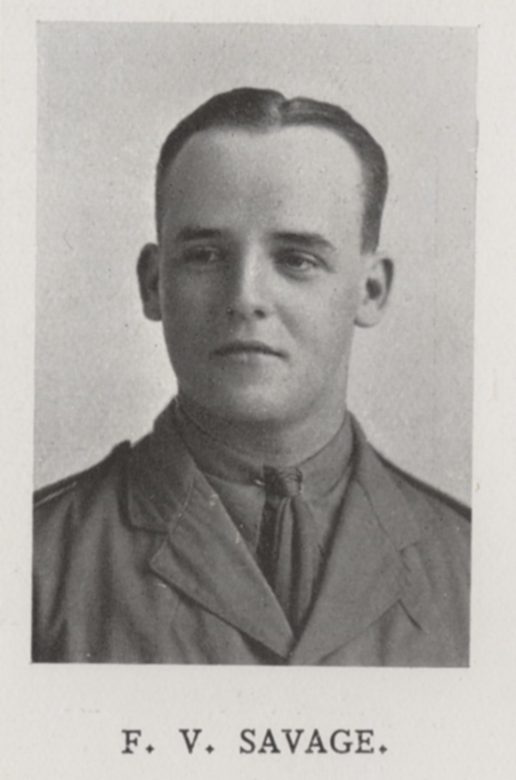 Key Facts
DATE OF BIRTH:
3rd November 1890
YEARS ATTENDED THE COLLEGE:
1907 - 1909
HOME ADDRESS WHEN AT THE COLLEGE:
153 Rosendale Road, West Dulwich
REGIMENT
94th Russell's Infantry, Indian Army
FINAL RANK:
2nd Lieutenant
DATE OF DEATH:
1st May 1917
AGE AT DEATH:
26
WHERE HE DIED (or was wounded)
Gomal Pass
LOCATION OF GRAVE OR MEMORIAL:
Delhi Memorial (India Gate). Face 3-27.
2nd Lieutenant Francis Vaudry Savage
Francis was born on November 3rd 1890 in Bombay, the son of Thomas Savage, head master of The Cathedral School, Bombay, and his wife, Flora. He began his education at his father's school before the family moved back to England and he subsequently spent time at Priory Park School, Kew. In May 1907 he, along with his twin brother, Philip, and their younger brother, Eric, came to the College. Francis stayed for just shy of two years, leaving at Easter 1909 whilst a member of the Science Fourth. After leaving he took up a position with Barclay's Bank and was there for several years during which time he was also an active reservist in the Artists Corps. In 1913 he moved to India, to take up a position at Messrs. King, King and Co., army agents and bankers, as well as joining the Bombay Volunteer Rifles, another reserve unit.
During the early phase of the war Francis' firm prevented him from signing up for full-time service, as so many staff had already left that they were experiencing a chronic shortage of manpower. In August 1916 he was finally successful in leaving his position to take up a commission with the Indian Army Reserve of Officers. He was at first attached to the 1st Battalion of the Yorkshire Regiment with whom he spent two months training at Murree before being transferred to the 94th Russell's Infantry. His new unit were stationed at the Gomal Pass, on the North-West Frontier with Afghanistan, where they were engaged in a running conflict with a tribe known as the Mahsouds. On May 1st 1917 he was in command of an outpost at Nili Kach when it was overrun by Mahsouds; Francis was killed along with 53 of the 54 other members of the Indian Army stationed there.