Pulverman, OP
(1892 - 1915)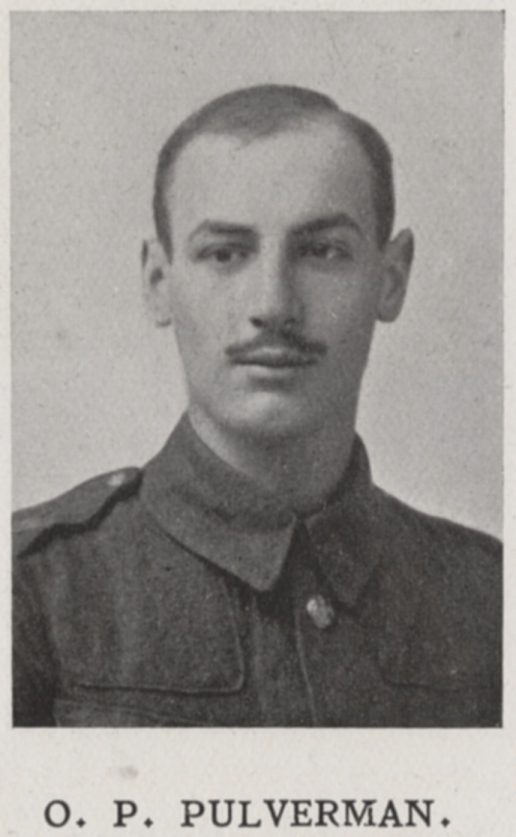 Key Facts
DATE OF BIRTH:
26th May 1892
YEARS ATTENDED THE COLLEGE:
1903 - 1909
HOME ADDRESS WHEN AT THE COLLEGE:
Montrose, 10 Church Road, Forest Hill
REGIMENT
1st Battalion, Suffolk Regiment
FINAL RANK:
2nd Lieutenant
DATE OF DEATH:
1st September 1915
AGE AT DEATH:
23
WHERE HE DIED (or was wounded)
Ypres
LOCATION OF GRAVE OR MEMORIAL:
Dranoutre Military Cemetery I A 19
2nd Lieutenant Oscar Percy Pulverman
Oscar was born Oscar Percy Pulvermann in Forest Hill on May 26th 1892, the third son of German hardware salesman Martin Pulvermann and his wife, Clara. On March 16th 1896 his father, and therefore the rest of the family, became naturalised British Citizens. Oscar at first attended the Prep before, at the start of 1903, joining his elder brothers, Franz and Alfred, at the College. He went on to be a pupil for six and a half years, leaving in the summer of 1909 to take up a position working with the family business. He took a breakr to go abroad for a year and study languages but upon his return in 1912 he resumed his position in the family firm.
In September 1914 Oscar, who by now, along with the rest of the family, had shortened his surname to Pulverman, almost certainly to sound less 'Germanic', enlisted as a member of the Artists Rifles. In January 1915 he went over to the front for the first time, and for the next six months was fighting in the trenches in Flanders, before being granted a commission in the Suffolk Regiment that June. He was serving near Ypres with his new regiment when, on September 1st that year, he was mortally wounded by a grenade whilst preparing for an assault, dying as a result of his injuries while being taken to the nearest Field Hospital.