Powell, PJG
(1896 - 1917)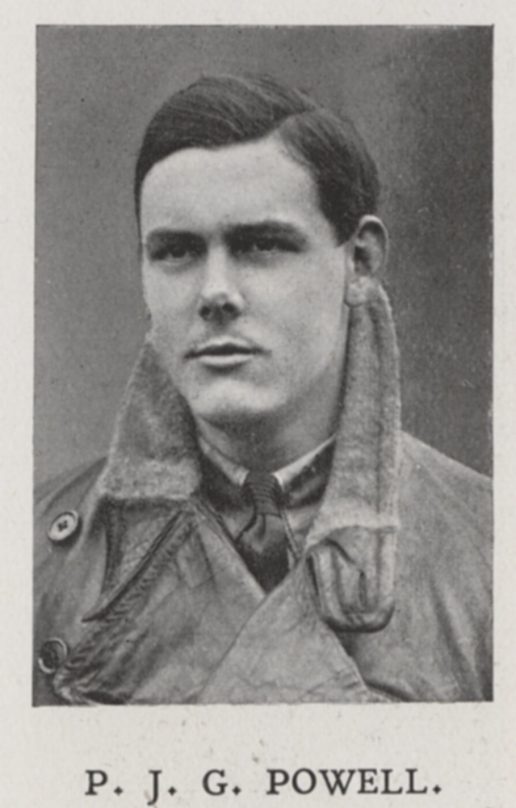 Key Facts
DATE OF BIRTH:
20th September 1896
YEARS ATTENDED THE COLLEGE:
1911 - 1912
HOME ADDRESS WHEN AT THE COLLEGE:
47 Belvedere Road, Upper Norwood
REGIMENT
Royal Army Service Corps
FINAL RANK:
Lieutenant
DATE OF DEATH:
2nd April 1917
AGE AT DEATH:
20
WHERE HE DIED (or was wounded)
Farbus, Vimy Ridge
LOCATION OF GRAVE OR MEMORIAL:
Arras Flying Services Memorial
Lieutenant Patrick John Gordon Powell
Born on September 20th 1896, Patrick was the third son of Mr. and Mrs F.W. Powell, albeit by the time that he and his elder brother David came to Dulwich they were both resident in Crystal Palace with their grandfather, bank director David Henry Small. Patrick came to the College from Cairnburn in May 1911, and stayed until the end of the following year, leaving at Christmas 1912. Having left he took up a position working at the Connaught Coachworks, on Long Acre in Covent Garden.
In September 1914, the month after war had been declared in Europe, he volunteered as a member of the Universities and Public Schools Battalion of the Royal Fusiliers, but shortly afterwards took up a place at Sandhurst. After several months Patrick passed out in March 1915, being gazetted to a position in the Royal Army Service Corps, with whom he soon after went over to France, serving in the vicinity of Armentieres until the summer of 1916, during which time he was promoted to Lieutenant. In July 1916 he returned to England to train as a pilot, qualifying that October. He returned to France the next month and was attached to the 13th Squadron of the Royal Flying Corps, near Arras; during his time with the Corps he was to become particularly well renowned as an aerial photographer. On April 2nd 1917 he was flying on a reconnaissance mission behind German lines, in preparation for the upcoming assault on Vimy Ridge, when his plane was shot down, and he and his Air Mechanic Percy Bonner were both killed. It is believed that they were shot down by Manfred von Richthofen, better known as "The Red Baron", whose total of 80 planes shot down was the highest of any pilot in the war.