Pappa, AF
(1891 - 1917)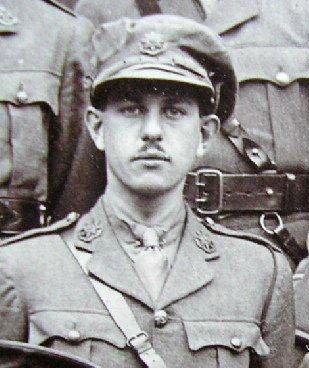 Key Facts
DATE OF BIRTH:
19th June 1891
YEARS ATTENDED THE COLLEGE:
1904 - 1905
HOME ADDRESS WHEN AT THE COLLEGE:
56 Belvedere Road, Upper Norwood
REGIMENT
8th Battalion, East Yorkshire Regiment
FINAL RANK:
2nd Lieutenant
DATE OF DEATH:
5th May 1917
AGE AT DEATH:
25
WHERE HE DIED (or was wounded)
France
LOCATION OF GRAVE OR MEMORIAL:
Arras Memorial. Bay 4 and 5
2nd Lieutenant Armand Francis Pappa
Born 19th June 1891 in Maida Vale, he was the fourth, and youngest, child of a Greek father, Demosthenes, a financial agent, and a French mother, Francesca. Having joined the College in 1904 he left less than a year later, still only a member of the 2nd Form. After finishing his education he went on to become an insurance company clerk at Lloyd's of London.
He was commissioned as 2nd Lieutenant in the 9th Battalion East Yorkshire Regiment on 22nd July 1915, later transferring to the 8th Battalion. On the morning of the 3rd of May 1917 the 8th Battalion East Yorkshire Regiment was involved in an attack on enemy positions at Bois du Vert and Bois du Sart to the east of Monchy. The leading battalions suffered badly from rifle and machine gun fire and despite repeated efforts to get forward, an advance of only a few yards was achieved and the attack quickly came to a standstill with the now scattered survivors taking shelter in shell holes. It was only when darkness fell that they were able to make their way back to the start line. During the night they replaced a battalion of the Royal Scots Fusiliers in the front line and spent the following day gathering in the wounded under the cover of a truce with the Germans. Armaud was in charge of a party which was building a fire step (a ledge dug into the side of the trench to allow soldiers to fire through the parapet) when a shell fell in to the trench and killed him. He was buried where he fell. The work continued under occasional shelling and heavy sniper fire for the rest of the day.
His sister received the following telegram dated the 14th May 1917:
"Deeply regret to inform you Second Lieut. A.F. Pappa 8 East Yorkshire Regt. was killed in action May six. The Army Council express their sympathy. Please supply War Officer M.S.3. Cas: 520/2 with address of this officer's mother"
He is commemorated on the Arras Memorial Bay 4 and 5. Some sources record his middle name as the slightly longer Francisque.
We are indebted to John Hamblin for kindly sharing his research, which has enabled us to expand this biography.