O'Meara, BEA
(1867 - 1916)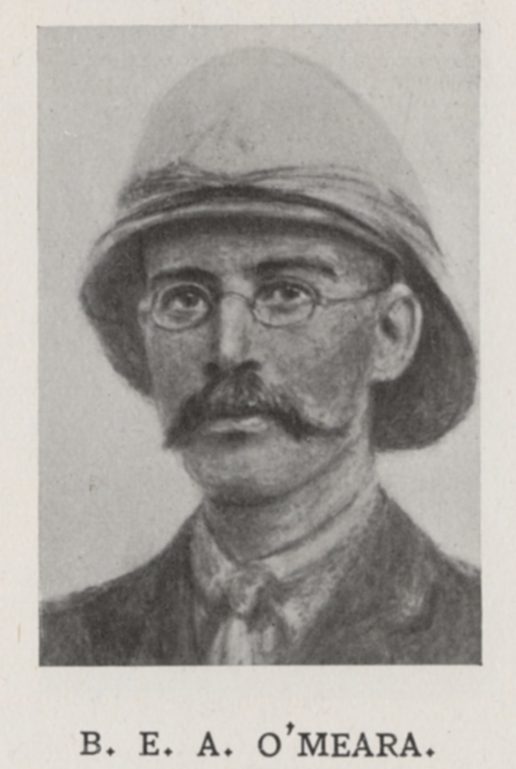 Key Facts
DATE OF BIRTH:
1st February 1867
YEARS ATTENDED THE COLLEGE:
1879 - 1882
REGIMENT
Intelligence Staff, East Africa
FINAL RANK:
Captain
DATE OF DEATH:
31st August 1916
AGE AT DEATH:
49
WHERE HE DIED (or was wounded)
Turiani
LOCATION OF GRAVE OR MEMORIAL:
Dar Es Salaam War Cemetery. 8 B 3
Captain Bulkeley Ernest Adolphus O'Meara
Ernest was born in Simla, India, on February 1st 1867, the son of dental surgeon Alfred O'Meara. He officially enrolled at Dulwich in September 1879, although he was not actually in attendance until the start of 1880, when his younger brother, Charles, also joined; they would later be joined by their younger brother, Herbert. Ernest left at the end of 1882 and went on to King's College, London. In 1887, having graduated, he went out to the diamond fields of South Africa, where he divided his time between working for the De Beers Company, and as an official Government surveyor. During the Boer War he was in the Intelligence Department and served as intelligence officer on the staff of General Charles Parsons; for his services during the war he was awarded the D.S.O. and mentioned in dispatches three times. Following the war, he once more began working as a government surveyor, originally in Johannesburg, before transferring to Nairobi, Kenya, in 1906. He subsequently spent a year in Brisbane, Australia, across 1910 and 1911, working for the Railway Survey Staff, after which he returned to Nairobi.
The outbreak of war in 1914 saw Ernest enlist in the British East Africa Mounted Rifles, and his left hand was amputated as a result of wounds sustained in an early skirmish near Longido. In May 1915, upon his return to duty, he was promoted to Captain, and assigned to the staff of the 1st Division for Intelligence Duties, and for over a year was continuously involved in engagements, skirmishes and conflicts. In August 1916, during the clearing of the Uluguru Mountains, he fell ill with blackwater fever, ultimately dying as a result on the final day of that month at the town of Turiani. He was survived by a widow, Edith, and was posthumously mentioned in dispatches by General Smuts.