Murray, CD
(1889 - 1917)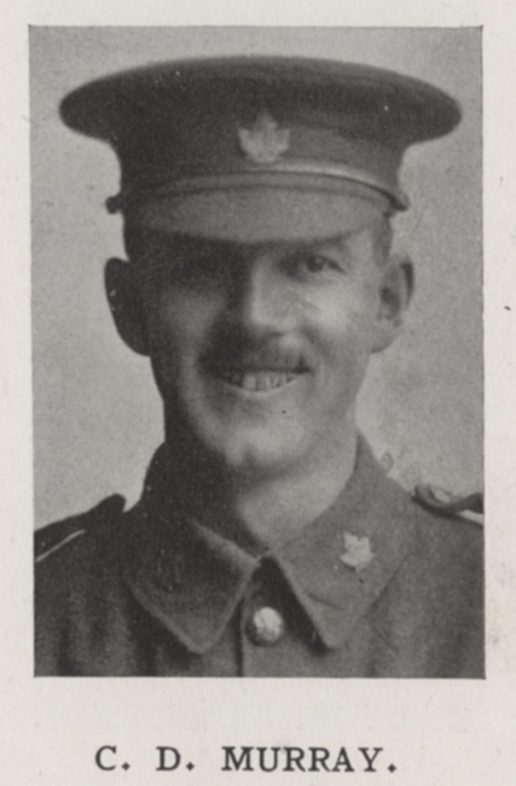 Key Facts
DATE OF BIRTH:
28th June 1889
YEARS ATTENDED THE COLLEGE:
1904 - 1906
HOME ADDRESS WHEN AT THE COLLEGE:
Shadowbush, Norbury
REGIMENT
49th (Alberta) Battalion, Canadian Infantry
FINAL RANK:
Sergeant
DATE OF DEATH:
30th October 1917
AGE AT DEATH:
28
WHERE HE DIED (or was wounded)
Passchendaele
LOCATION OF GRAVE OR MEMORIAL:
Passchendaele New British Cemetery. II A 1
Sergeant Christopher Desmond Murray
Christopher was born on June 28th 1889, the second son of architect & surveyor Robert Murray and his wife Helen. He came to Dulwich at the start of 1904, aged 14, and during his time at the College would particularly distinguish himself as a cricketer, being a member of the 1st XI in the summers of both 1905 and 1906, during the latter of which he topped the bowling averages. That summer he left school, and not long afterwards moved out to Canada, where he spent the next eight years farming on a homestead near the town of Chigwell, Alberta.
In January 1915 Christopher gave up his life as a farmer, volunteering instead as a member of the Canadian Infantry, he would go on to proceed to England as part of the 2nd Canadian Contingent that September. A month after arriving he went over to France, where for the next two years he served almost continuously through many of the most notorious conflicts of the war, including Ypres, the Somme, and Vimy Ridge. On October 28th 1917 he was serving as acting Sergeant-Major of his company when they went 'over the top' near Passchendaele; he was very seriously wounded, passing away as a result the following day. At the time of his death he had been scheduled to return to England shortly afterwards in order to take up a commission.