McGregor, RM
(1889 - 1915)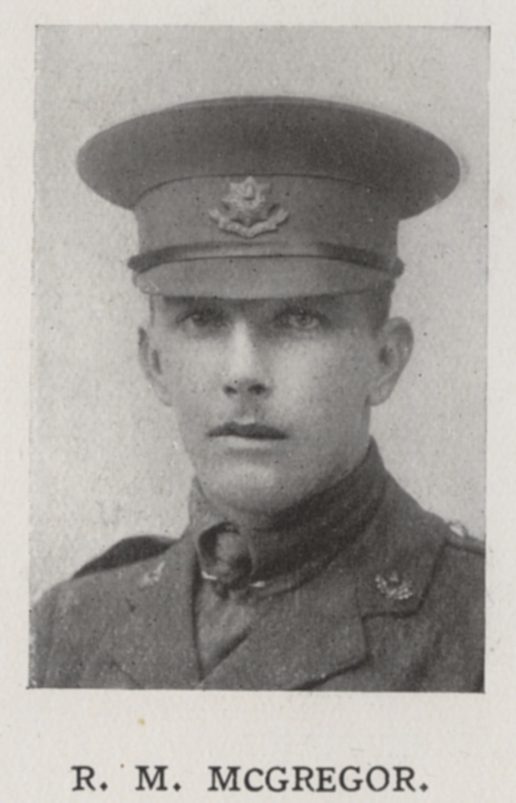 Key Facts
DATE OF BIRTH:
22nd February 1889
YEARS ATTENDED THE COLLEGE:
1902 - 1906
HOME ADDRESS WHEN AT THE COLLEGE:
37 Harold Road, Upper Norwood
REGIMENT
3rd Battalion, Cheshire Regiment
FINAL RANK:
2nd Lieutenant
DATE OF DEATH:
25th May 1915
AGE AT DEATH:
26
WHERE HE DIED (or was wounded)
Ypres
LOCATION OF GRAVE OR MEMORIAL:
Ypres (Menin Gate) Memorial Panel 19-22
2nd Lieutenant Ronald Malcolm McGregor
Ronald was born on February 22nd 1889, the son of chemical engineer Josiah McGregor and his wife Fanny. He started at Dulwich in May 1902, the youngest of four McGregor brothers to come to the College, having been preceded by Marcus, Josiah, and E.J. He was at the school for just over four years, leaving in the summer of 1906 whilst a member of the Second Army Class. In 1909 he went out to Argentina to farm, and spent five years on an estancia, of which he eventually became assistant manager.
On the outbreak of war in 1914 Ronald vowed to return to England and did so as soon as he was able to get a passport. He arrived back on December 12th, and in January 1915 took up a commission in the Cheshire Regiment, with whom his older brother Marcus was already serving. After several months in a training camp at Birkenhead he went over to the continent that May and was sent to the front line near Ypres, arriving on the 24th. That day his unit came under heavy attack by the German, and he was one of the few to come out relatively unscathed although he was suffering some minor effects of a gas attack. The following day however he was shot and killed by a sniper whilst handing out ammunition along the trench. His older brother, Marcus, not only a fellow OA but also a fellow member of the Cheshires, was killed later that year at the Hohenzollern Redoubt.