Loudoun-Shand, SW
(1879 - 1916)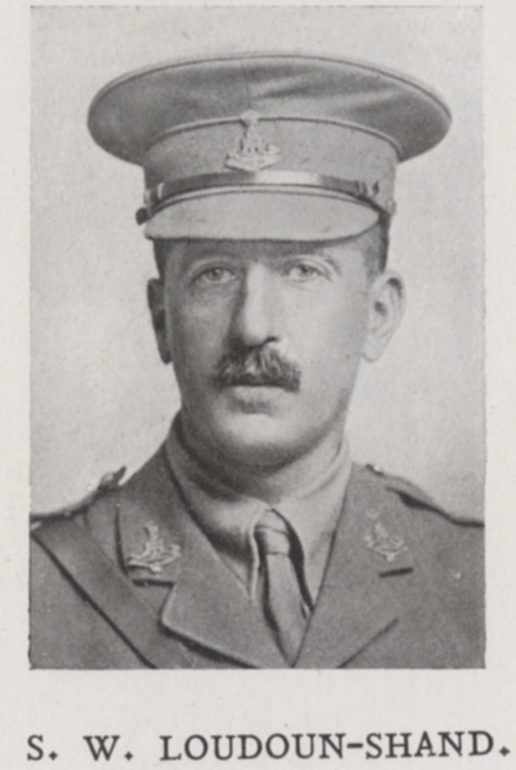 Key Facts
DATE OF BIRTH:
8th October 1879
YEARS ATTENDED THE COLLEGE:
1891 - 1897
HOME ADDRESS WHEN AT THE COLLEGE:
Ardoch House, 112 Thurlow Park Road, West Dulwich
REGIMENT
10th Battalion, Yorkshire Regiment
FINAL RANK:
Major
DATE OF DEATH:
1st July 1916
AGE AT DEATH:
36
WHERE HE DIED (or was wounded)
Fricourt, Somme
LOCATION OF GRAVE OR MEMORIAL:
Norfolk Cemetery, Becordel-Becourt. I C 77
Major Stewart Walter Loudoun-Shand
Born Stewart Shand in Ceylon, on October 8th 1879, he was the second of six sons who were amongst ten children born to Scottish plantation owner John Shand and his wife, Lucy. All six boys would go on to attend the College, with the eldest, William, joining in 1888, and the youngest, Eric, leaving in 1912. Stewart's time at Dulwich lasted six and a half years, from the beginning of 1891 until the summer of 1897, and during his final year was a member of both the 3rd XV and the cricket 3rd XI. After leaving he began a career with Williams Deacon's Bank. The declaration of the Boer War in 1899, howeve,r saw Stewart enlist for military service and he joined the Pembrokeshire Yeomanry, with whom he served for the duration of the war. Upon its completion he remained in South Africa, working for a time in Port Elizabeth, before returning to Ceylon, where he became involved in the tea trade. In 1911 he, along with three of his brothers, officially changed their names to emulate their father, who had shortly beforehand combined his middle name, Loudoun, with his surname to create a double-barrelled name.
When war broke out in Europe in the summer of 1914 Stewart returned to England from Ceylon, and that November was commissioned in the Yorkshire Regiment. He rose through the ranks fast, and by September 1915 when he and his unit were sent to the continent for the first time he was already serving as Captain, before being promoted again to Major that December. On July 1st 1916, the first day of the Somme, he was charged with leading his men over the top near Fricourt. Although they instantly came under heavy machine-gun fire he insisted on putting himself in danger in order to help their progress, and even after being mortally wounded himself insisted upon being propped up in a position where he could continue to see, and encourage, them forward. His courage, leadership, and conspicuous bravery that day meant that he was posthumously awarded the Victoria Cross, one of nine awarded for actions during the first day of the Somme.