Jameson, HRV
(1897 - 1917)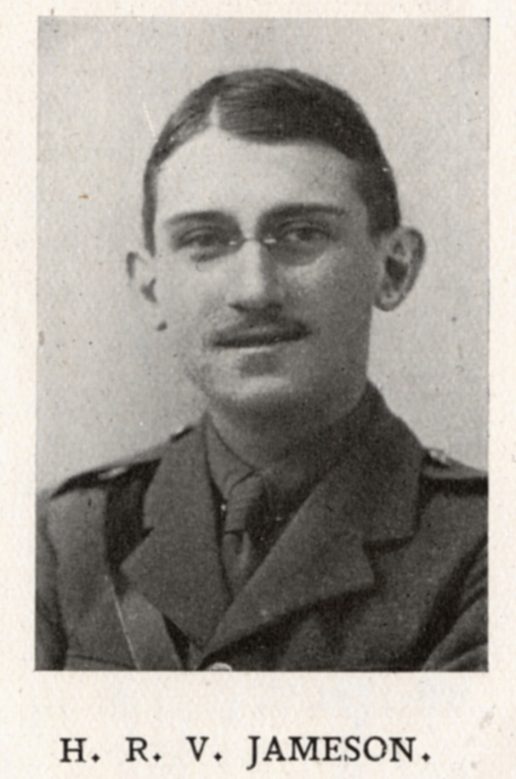 Key Facts
DATE OF BIRTH:
29th August 1897
YEARS ATTENDED THE COLLEGE:
1910 - 1915
HOME ADDRESS WHEN AT THE COLLEGE:
82 Christchurch Road, Streatham Hill
REGIMENT
2nd Battalion, Seaforth Highlanders
FINAL RANK:
2nd Lieutenant
DATE OF DEATH:
11th April 1917
AGE AT DEATH:
19
WHERE HE DIED (or was wounded)
Greenland Hill, Arras
LOCATION OF GRAVE OR MEMORIAL:
Arras Memorial. Bay 8
2nd Lieutenant Harry Roderick Victor Jameson
Harry was born on August 29th 1897, the fourth of six surviving children of Colonel Sydney Jameson and his wife, Ethel. He was originally at the Prep before, in the summer of 1910, coming to the College, where he joined his elder brother, Alistair, and would later be joined by his younger brother, Edward. He was at Dulwich for five years, leaving in the summer of 1915 whilst a member of the Army Class.
From Dulwich Harry went on to Sandhurst, passing out in April 1916 to take up a commission in the Seaforth Highlanders. The regiment was somewhat of a family tradition, as not only were his elder brothers already in the unit, but the 2nd Battalion, to which Harry was assigned, had once been commanded by their father. He went over to France that July, and for the next nine months was posted on the front line. On April 11th 1917 he was mortally wounded leading an assault at Greenland Hill, near Arras; although the action cost the lives of many of the men, including ultimately Harry himself, it succeeded in the short term in capturing the trench which had been its objective, and his command was universally praised by those who did survive. His eldest brother Ian – who, albeit not a fellow OA, was a fellow member of the Seaforth Highlanders – was also killed in action just ten days later, whilst his second cousin, Campbell Crabbe – who was a fellow OA but not a fellow Seaforth Highlander – had fallen in action at Loos, in September 1915.