Horne, CW
(1882 - 1919)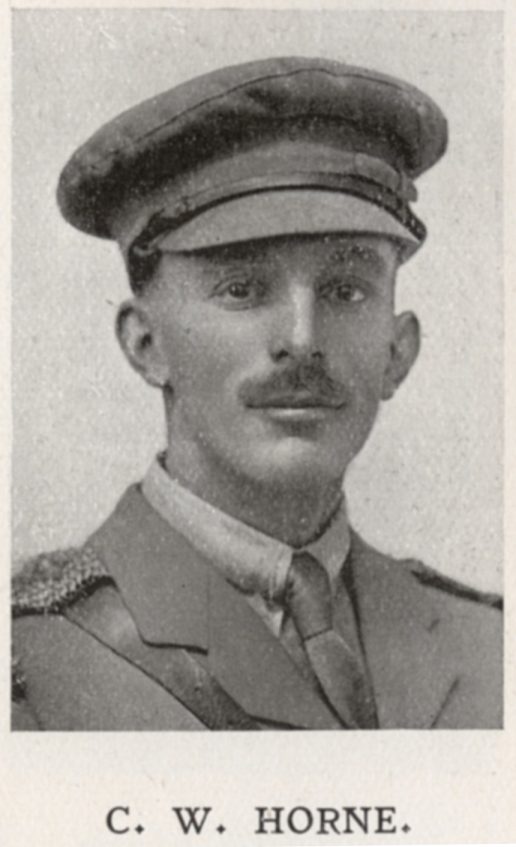 Key Facts
DATE OF BIRTH:
30th November 1882
YEARS ATTENDED THE COLLEGE:
1894 - 1898
HOME ADDRESS WHEN AT THE COLLEGE:
Rossmore, Sidcup, Kent
REGIMENT
28th Light Cavalry, Indian Army
FINAL RANK:
Captain
DATE OF DEATH:
27th December 1919
AGE AT DEATH:
37
WHERE HE DIED (or was wounded)
Torquay
LOCATION OF GRAVE OR MEMORIAL:
Torquay Cemetery and Extension. E. 17. 15428.
Captain Charles Walter Horne
Charles was born on November 30th 1882, the second child and eldest son of a tea merchant, also named Charles Horne, and his wife, Alice. He spent four years at Dulwich, between 1894 and 1898, and after leaving took up a position working for his father's tea company. He also became an army reservist, as a member of the Royal West Surreys, and through doing so learned to become an expert horseman. In early 1905 he sailed for India, where he took up service with the Doom Dooma Tea Company, based in Assam, as well as once more serving as an army reservist, on this occasion with the Assam Valley Light Horse.
At the end of 1914, with war having broken out that summer, Charles enlisted for full time military service, and spent the next four months training at Quetta. Upon passing out he was posted as a Lieutenant to the Hyderabad Lancers, and travelled to Egypt with his new unit. Once there he was put in charge of their Machine Gun Section, largely tasked with patrolling around the Suez Canal. In 1917 he was part of General Allenby's force which invaded Palestine through Sinai and during that year he fought in the battle of Gaza and was part of the advance guard across the Plains of Philistia. That December however Charles was seriously wounded whilst attempting to hold Nebi Samwil, north of Jerusalem, and was invalided back to Cairo as a result. Despite several operations, he was never passed fit for service, and despite being promoted to Captain in February 1918, was sent back to England that September. He was placed in nursing home near Torquay, where he passed away shortly after Christmas 1919, having never truly recovered from his injuries.