Griffith, JG
(1874 - 1915)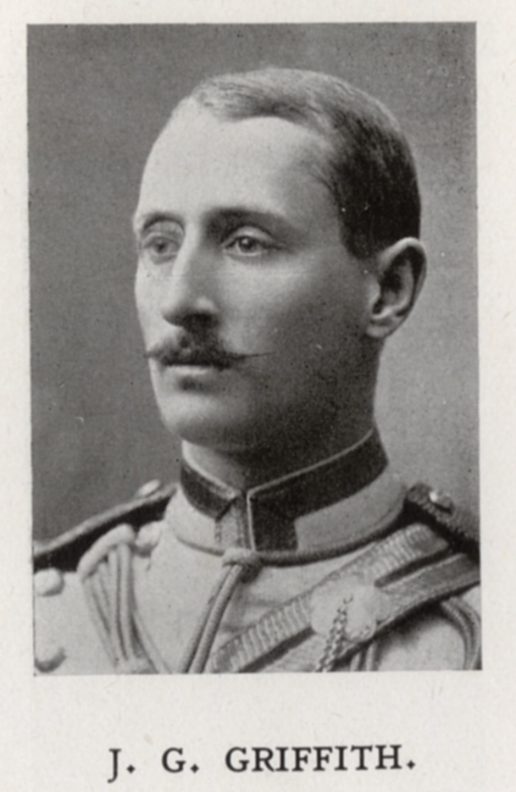 Key Facts
DATE OF BIRTH:
23rd June 1874
YEARS ATTENDED THE COLLEGE:
1885 - 1887
HOME ADDRESS WHEN AT THE COLLEGE:
Burton Lodge, Staines Road, Twickenham
REGIMENT
32nd Lancers, Indian Army
FINAL RANK:
Major
DATE OF DEATH:
24th May 1915
AGE AT DEATH:
40
WHERE HE DIED (or was wounded)
Ypres
LOCATION OF GRAVE OR MEMORIAL:
Ypres Town Cemetery G 8
Major John Gwynne Griffith
Born in Bombay on June 23rd 1874, John was the third son of J.G.E. Griffith, a Colonel in the Indian Staff Corps, and his wife, Fanny. He joined Dulwich in 1885, at the same time as his elder brother Henry; both Griffith brothers were boarders in Elm Lawn and they were both at the College for two years, leaving in 1887. After his time at Dulwich John went into the military, at first joining the South Wales Borderers. By November 1894 he was in India, where he took a commission in the Durham Light Infantry, being based at Poona. Two years later he was transferred to the Indian Army, and posted to the Bombay Lancers, with whom he held many positions, starting with plague duty in Bombay, before going on to be Inspecting Officer of the Imperial Service Cavalry at Kathiawar, and finally being appointed as a military attaché at Bombay Command Headquarters. He served in South Africa during the Boer War, where he was Captain in command of the 63rd Imperial Yeomanry, before returning to Bombay to resume his role as military attaché. Not long after returning he was promoted to Brigade Major, serving at Kamptee and Jubbulpore before passing through the Indian Staff College at Quetta. In 1911 he went to Australia for two years, which he spent as Director of Military Training on the Headquarters Staff in Melbourne.
When war was declared in 1914 John, who was at that time serving as a Major in the 32nd Lancers, Indian Army, was back in England on leave. He reported to the 7th Reserve Cavalry, based at Tidworth in Wiltshire, and ultimately went to France the next spring as Brigade Major of the 9th Cavalry Brigade. On May 24th 1915 he was killed whilst serving south-east of Ypres. He was mentioned in dispatches shortly after his death, and his widow Florence received a letter from W.M. Hughes, Prime Minister of Australia, personally acknowledging the work her late husband had performed during his time in the country.