Gordon-Steward, CW
(1876 - 1917)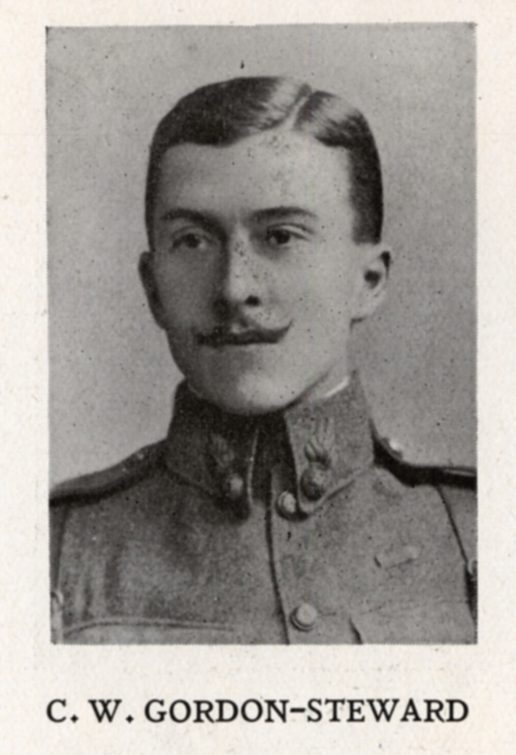 Key Facts
DATE OF BIRTH:
21st August 1876
YEARS ATTENDED THE COLLEGE:
1888 - 1894
HOME ADDRESS WHEN AT THE COLLEGE:
Bodloura, 122 Croxted Road
REGIMENT
Northumberland Fusiliers
FINAL RANK:
Major
DATE OF DEATH:
12th April 1917
AGE AT DEATH:
40
WHERE HE DIED (or was wounded)
France
LOCATION OF GRAVE OR MEMORIAL:
Gorre British and Indian Cemetery. I G 12
Major Charleton William Gordon-Steward
Born Charleton William Gordon on August 21st 1876, he was the only son of Brigadier-General Charles Steward Gordon of the West Yorkshire Regiment and his wife, Elizabeth. Having previously been at the Prep, he joined the College at the start of 1888, and throughout his time as a pupil was known by the nickname of "Robin". He was a prominent figure in Dulwich sports, being twice a member of the Gymnastics VI, as well as being in both the rugby and cricket 1st teams during his final year. At the end of 1894 he left Dulwich in order to go to Sandhurst, passing out into the West Yorkshire Regiment, the same as his father, in September 1896. Having joined his new regiment he went out to China, and proceeded to traverse much of the country alongside the British Consul, even venturing as far as Burma. After transferring to the Chinese Regiment he earned a medal for his part in the suppression of the Boxer Rebellion before, in 1902, being promoted to Captain in the Northumberland Fusiliers, with whom he was sent to Southern Africa. Here he, being a skilled draughtsman, played a significant role in the South African Military Survey, which took place between 1903 and 1905, and subsequently was engaged in secret service work in German South West Africa, modern day Namibia. After nearly fifteen years of active service, he retired in 1910, and became a fellow of the Royal Geographical Society.
Upon the outbreak of war Charleton, who had by now added his father's middle name Steward to his surname – a move which interestingly was also taken by his father, who himself was to serve two years on the Western Front despite being in his 60s – was recalled for military duty, returning to the Northumberland Fusiliers. He was promoted to Major, serving as Brigade Major of the 198th Brigade; it was a role he was to hold with distinction for the next two and a half years, including a mention in despatches in February 1917. Not long after this however, on April 12th that year, he was killed in action, being buried in the British and Indian Cemetery at Gorre. He was survived by his widow, Nellie, and their one son.