Gilson, FG
(1879 - 1920)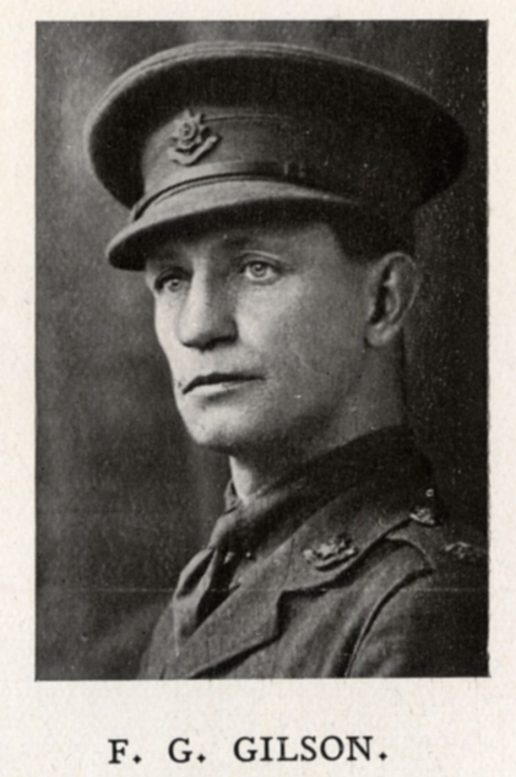 Key Facts
DATE OF BIRTH:
23rd November 1879
YEARS ATTENDED THE COLLEGE:
1895 - 1897
HOME ADDRESS WHEN AT THE COLLEGE:
Halstead, Essex?
REGIMENT
The Worcestershire Regiment
FINAL RANK:
Major
DATE OF DEATH:
17th September 1920
AGE AT DEATH:
40
WHERE HE DIED (or was wounded)
Worcestershire
LOCATION OF GRAVE OR MEMORIAL:
Kempsey (St. Mary the Virgin) Churchyard, Worcs
Major Francis Gerald Gilson
Born November 23rd 1879, Francis was the second son of Charles Rawlinson Gilson and his wife, Flora. Eighteen months later, whilst sailing with the rest of the family to Australia, Charles passed away at the age of 31. After this Francis went on to attend a small private boarding school in Kensington, before, not long after his fifteenth birthday, joining his elder brother, James, at Dulwich, where they were both boarders in Blew House. After leaving the College he joined a militia battalion of the Essex Regiment but, not long afterwards, resigned this role in order to become a farmer in Essex. Not long afterwards, however, Francis was back in the Army, having taken a commission in the Worcestershire Regiment to go and fight in the Boer War in South Africa. Having earned the Queen's and King's Medals with two clasps for his role in the fighting he was reassigned to Ceylon (modern day Sri Lanka), where he was soon resigned his commission. A keen horseman and amateur jockey, he was involved in an accident at Colombo Racecourse during his time in Ceylon, which left him seriously injured. After spending some time in England he went out to Canada in 1909, and worked in Calgary, Alberta for the next four years, at first in the dairy business but later as an estate agent. After returning to England in 1913 he married Doris, who was herself the sister of fellow O.A., Hugh Buckler.
In August 1914, as soon as war was declared, Francis made himself available as a reservist, and the next month was re-granted his commission in the Worcestershire Regiment. He was severely wounded by machine gun fire at the First Battle of Ypres in October 1915, being mentioned in dispatches for his conduct that day. After having finally returned to the Front the following year he returned home once more, having suffered a bout of severe shellshock. For nearly two years following this he was in command of a battalion based in England, before returning to the front once more as second in command of the 2/8th Worcestershires in April 1918. The next month he was severely affected by a gas attack, although he refused to report how ill it had made him out of a desire to stay at the front. After returning home, still suffering from the severe effects of the gas, he spent a period in a sanatorium in Scotland, before, on September 17th 1920, passing away as a result of a lung haemorrhage.