Fry, WB
(1877 - 1915)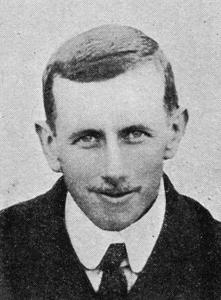 Key Facts
DATE OF BIRTH:
16th July 1877
YEARS ATTENDED THE COLLEGE:
1891 - 1894
HOME ADDRESS WHEN AT THE COLLEGE:
24 Montrell Road, Streatham Hill
REGIMENT
Royal Army Medical Corps
FINAL RANK:
Major
DATE OF DEATH:
17th March 1915
AGE AT DEATH:
37
WHERE HE DIED (or was wounded)
Wittenberg
LOCATION OF GRAVE OR MEMORIAL:
Berlin South-Western Cemetery. XIX. C. 5.
Major Walter Burgess Fry
Photo courtesy of the Imperial War Museum. © IWM (HU 122463).
Born 16th July 1877, Walter was the son of Lewis John Fry, the brother of the legendary cricketer and sportsman, CB Fry. Having joined the College in 1891, he left during 1894 whilst in the Science 5th and began to train at St Thomas' Hospital as a doctor. Upon completing his training, Walter joined the army in the Royal Army Medical Corps and quickly progressed through the ranks, becoming a Lieutenant in June 1900 and a Captain in June 1903. During these years he served in the Punjab region of India and specialised in trypanosomes and other tropical diseases and in 1911 he was made Protozoologist and Assistant Bacteriologist to the Wellcome Tropical Research Laboratories at Khartoum, as well as writing several papers.
Walter was still serving in the army when war broke out and he went to France in August, 1914, and very shortly after was taken prisoner during the Retreat from Mons. As a prisoner of war he was detained at Wittenberg Prisoner of War Camp. Another six months had passed when, very suddenly, a typhus outbreak took hold and very quickly spread through the camp. The German doctors refused to treat the prisoners, meaning that it was left to a small band of men to try to solve the problem. The situation was recorded in the British Journal of Nursing as follows: "When they got into the open air again Major Fry broke down. Two of the medical officers were then sent to two temporary hospitals outside the camp… Drugs and dressing were impossible to obtain in adequate quantities. Limbs became gangrenous and had to be amputated for lack of them, and when the dead were carried for burial, outside the camp by their comrades the coffins were frequently greeted with jeers by the inhabitants of Wittenberg who stood outside the barbed wire and were permitted to insult them". On 17th March 1915 Walter died, having contracted typhus and he was buried in the Berlin South-Western Cemetery after the war.