Foord, CWH
(1885 - 1916)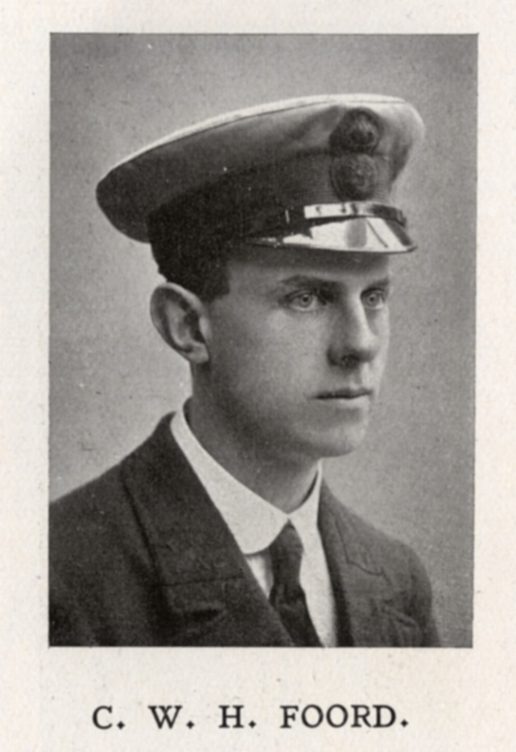 Key Facts
DATE OF BIRTH:
14th November 1885
YEARS ATTENDED THE COLLEGE:
1900 - 1903
HOME ADDRESS WHEN AT THE COLLEGE:
45 Alleyn Park
REGIMENT
Machine Gun Corps
FINAL RANK:
2nd Lieutenant
DATE OF DEATH:
19th December 1916
AGE AT DEATH:
31
WHERE HE DIED (or was wounded)
Somme
LOCATION OF GRAVE OR MEMORIAL:
La Neuville Communal Cemetery, Corbie. B 38
2nd Lieutenant Charlton Willoughby Hougham Foord
Born on November 14th 1885, Charlton was the only son of Alfred Foord, a bank clerk, and his wife, Caroline. After leaving Dulwich at the age of 17 he took up an apprenticeship with an engineering firm in Hammersmith, and subsequently entered the firm of Messrs. Marks & Clerk, engineers and patent agents, where one of the projects he would go on to work on was what would become the Lewis Gun. He was partly given this project because he was a keen marksman, spending the majority of this period as a member of the Polytechnic Rifle Club, for whom he took part in many competitions, and in 1909 won the Donegall Badge. Another passion of his life was music, most especially the clarinet; he even wrote a paper entitled "Air Pressure in Playing Reed Instruments", which was published in the February 1914 edition of the Philosophical Magazine. Charlton joined up for the first time in the summer of 1915. He first joined the Royal Naval Anti-Aircraft Corps, but upon hearing that his new unit was no longer sending men overseas he asked for a transfer to the Army, and in the early part of 1916 was given a commission in The Buffs. He was sent to Ireland for training, and whilst there was involved in the suppression of the Sinn Fein-led Rising. That summer, after a short spell with the Queen's Royal West Surreys, he was transferred to the Machine Gun Corps, with whom he went to France in November. Whilst serving in the trenches near Morval, on the Somme, he was wounded by a sniper on December 18th, dying the following day.