Faithfull-Davies, GV
(1888 - 1917)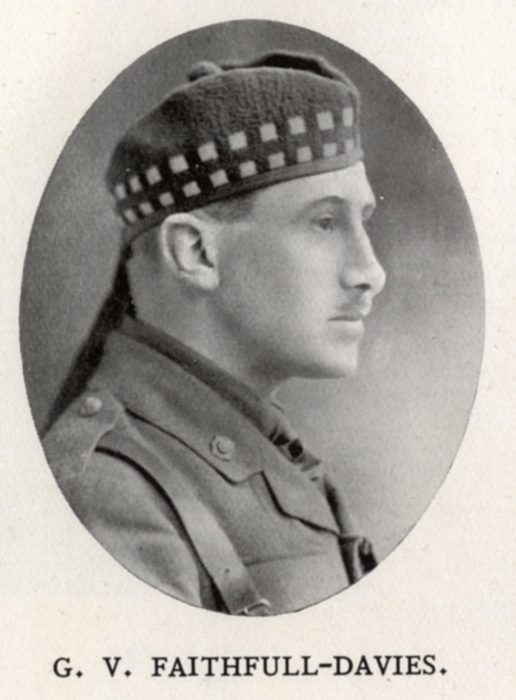 Key Facts
DATE OF BIRTH:
18th February 1888
YEARS ATTENDED THE COLLEGE:
1903 - 1904
HOME ADDRESS WHEN AT THE COLLEGE:
15 Southend Road, Beckenham
REGIMENT
13th Battalion, Royal Scots
FINAL RANK:
Lieutenant
DATE OF DEATH:
23rd April 1917
AGE AT DEATH:
29
WHERE HE DIED (or was wounded)
Arras
LOCATION OF GRAVE OR MEMORIAL:
Arras Memorial Bay 1 and 2
Lieutenant Gilbert Vere Faithfull-Davies
Vere, as he was universally known, was born on February 18th 1888, the youngest of eight children born to the Reverend Robert Davies and his wife, Ellen. He started at Dulwich just before his fifteenth birthday, three and a half years after his elder brother, Theodore, and was a pupil for just over a year before leaving, and heading into the city with the ambition of becoming a Chartered Accountant. Before too long however he had become dissatisfied with this, and instead took to a career as an actor instead, under the stage name Vere Denys. Indeed the story of his name is somewhat complicated, as both he and elder brother, Theodore, had used simply Davies as their surname whilst at school, with Faithfull as a shared middle name; whilst Vere later took the double-barrelled option, Theodore instead later in life chose to use Faithfull as his surname.
In October 1914 he volunteered as a member of the Artists Rifles, but later that year, having completed training, was given a commission in the Royal Scots, with whom he subsequently went over to the front. Whilst serving at Loos in September 1915 he suffered a severely broken arm, which necessitated being invalided back to England and spending nearly four months in hospital. During this period, with the aid of his friends, he collated a series of letters he had written home from the trenches before his injury, many of which had been published in the local paper, into a book entitled Trench Humour, with all the proceeds from its sale going to the Red Cross. Upon leaving hospital he was assigned to the camp at Godstone, where he was put in a teaching role and designated 'Bombing Instructor', as well as being promoted to Lieutenant. Unhappy with his role, in early 1917 he asked to return to the front, a request which was granted. On April 23rd that year, whilst leading his battalion in an attack near Arras, he was declared to be "missing", and is ultimately regarded to have been killed on that date. His passion for acting had never left him, and throughout his time in the Army he was renowned as the leader of a Pierrot Troupe, who would often put on performances to entertain the troops and maintain morale. His great-niece Marianne Faithfull would later rise to fame in the 1960s as a singer.