Dennes, W
(1890 - 1918)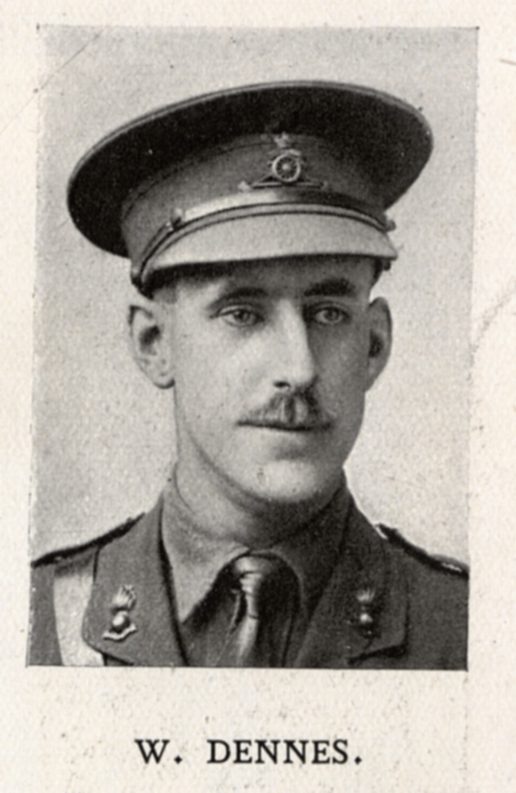 Key Facts
DATE OF BIRTH:
9th February 1890
YEARS ATTENDED THE COLLEGE:
1902 - 1906
HOME ADDRESS WHEN AT THE COLLEGE:
Highover, Westerham, Kent
REGIMENT
Royal Field Artillery
FINAL RANK:
Captain
DATE OF DEATH:
21st March 1918
AGE AT DEATH:
28
WHERE HE DIED (or was wounded)
Somme
LOCATION OF GRAVE OR MEMORIAL:
Pozieres Memorial. Panel 7 to 10
Captain Wilfrid Dennes
Born on February 9th 1890, Wilfrid was the son of solicitor Edgar Dennes and his wife, Elizabeth. After spending three years at Oxford House School in Brighton he came to the College in 1902, two years after his elder brother, Norman. had made exactly the same transition. After leaving Dulwich in the summer of 1906 he at first spent a year working in farming, before deciding to attempt to follow his father into the law, starting at Christ's College, Cambridge in 1908. Whilst at Cambridge he played for the University 2nd team at lacrosse, and in 1912, he graduated with a B.A. L.L.B. After leaving Cambridge he took a position in his father's firm of solicitors, with whom he went on to take his remaining Law Society examinations over the next two years. Around this period he also co-authored, with his colleague A.J. Lamb, a book entitled Echoes from Shirley: being "Shirley's leading cases in common law" in verse.
After war was declared Wilfrid signed up, and applied for a commission with the Royal Field Artillery, which he was granted on the same day in October 1914 that he passed his final law exam. In July 1915 he went across to France for the first time, being stationed at Albert, where he was to remain until the battle of the Somme the following summer, during which time he was promoted to Lieutenant. During the Somme Offensive he was one of the first to enter the captured village of Pozières, and subsequently served at Arras, where in June 1917 he was awarded the M.C. Later that year he returned to England in order to take a short training course, returning to the Somme front in early 1918, at which time he was promoted to Captain, and shortly afterwards, due to a lack of fit officers, was promoted to acting Major. He was killed in action serving in the area on March 21st 1918. A month later he was posthumously awarded a bar to his M.C. for, amongst others, carrying a wounded comrade to safety through nearly two kilometres of muddy water whilst under enemy fire, and for successfully evacuating without any injuries a gun pit which had received a direct hit from an enemy shell and subsequently caught fire.