Cordner, AA
(1880 - 1918)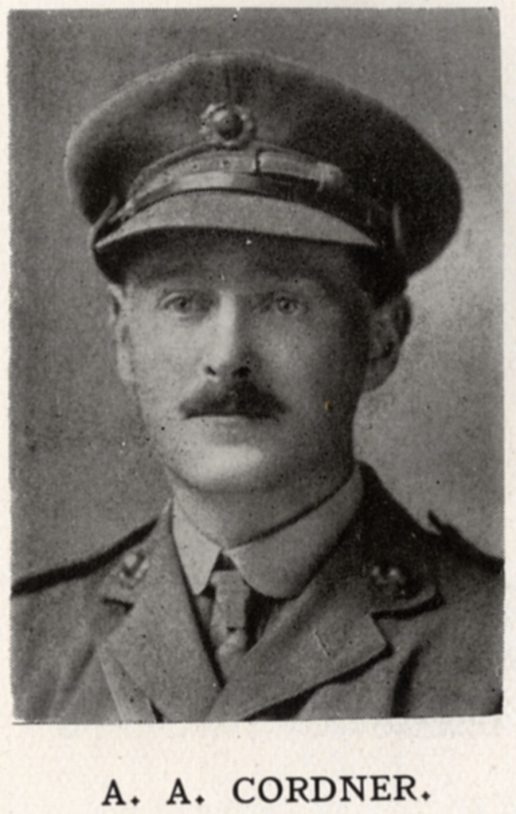 Key Facts
DATE OF BIRTH:
19th March 1880
YEARS ATTENDED THE COLLEGE:
1893 - 1897
HOME ADDRESS WHEN AT THE COLLEGE:
29 Alexandra Road, Gipsy Hill
REGIMENT
Royal Marine Light Infantry
FINAL RANK:
Major
DATE OF DEATH:
23rd April 1918
AGE AT DEATH:
38
WHERE HE DIED (or was wounded)
Zeebrugge
LOCATION OF GRAVE OR MEMORIAL:
Whitchurch (St. Andrew) Churchyard
Major Alexander Allen Cordner
Alexander was born on March 19th 1880 in Roorkee, in India's North West Frontier Province, the son of civil engineer Robert Cordner and his wife Alice; by the time he started at Dulwich the family had returned to London however, and were resident in Gipsy Hill. Whilst at the College he distinguished himself as a sportsman, serving as a member of the 1897 1st XV, a year which was also his second in a row as a member of the College Shooting VIII. After leaving he went on to the Royal Military College, from where he passed out in late 1898, subsequently taking a commission in the Royal Marines on New Year's Day 1899. Exactly a year later he was promoted to Lieutenant, and in 1910 was promoted again to Captain. By this point he had spent some time as Assistant Inspector of Musketry, as well as being trained in Physical Training and wireless telegraphy; indeed after having become a Captain he spent time as a wireless operator aboard H.M.S. Prince of Wales.
In 1915 he was part of the attack on Gallipoli, but had to be invalided to Egypt with severe dysentery, although he did recover from this and joined up again with his previous unit. In 1917 Alexander was promoted to the rank of Major, and on 23rd April the next year took part in the major raid on Zeebrugge, in which he was second in command of the 4th Battalion Royal Marines. During the raid he was aboard H.M.S. Vindictive as it pulled alongside the mole of Zeebrugge harbour, ready to disembark and storm the German batteries, when he, along with the officer in command of 4th Battalion, were struck and killed by a German shell. He was mentioned in dispatches for his part in the assault, and was survived by his widow, Mabel, and their daughter.