Campbell, NP
(1886 - 1917)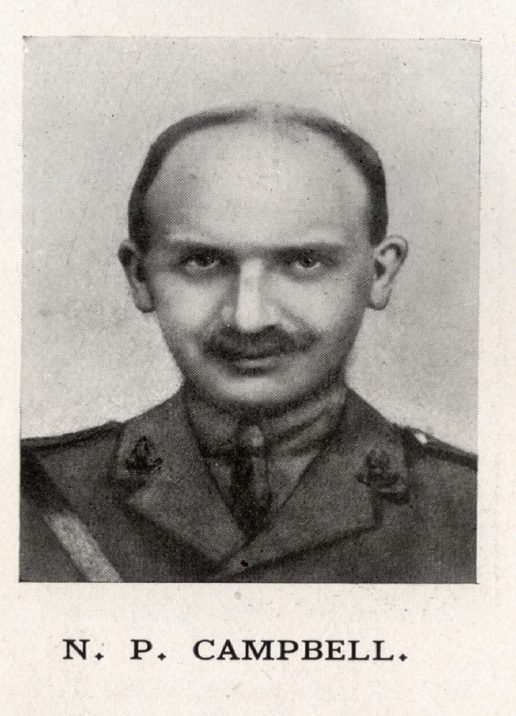 Key Facts
DATE OF BIRTH:
25th April 1886
YEARS ATTENDED THE COLLEGE:
1901 - 1904
HOME ADDRESS WHEN AT THE COLLEGE:
47 Lime St, EC?
REGIMENT
Royal Engineers
FINAL RANK:
Captain
DATE OF DEATH:
3rd May 1917
AGE AT DEATH:
31
WHERE HE DIED (or was wounded)
near Roeux
LOCATION OF GRAVE OR MEMORIAL:
Arras Memorial Bay 1
Captain Norman Phillips Campbell
Norman was born to James Phillips, a Canadian of Scottish descent, and his wife Louise in Chicago on Easter Sunday, 25th April, 1886. During his time at Dulwich he distinguished himself as a scientist, serving as Secretary of the Science Society during his Remove year, and went on to gain a science scholarship at Balliol College, Oxford. After graduating, with First Class honours, he subsequently spent a year working as a postgraduate in Oxford's science department, also having two papers published during this year. In 1908 he went out to Ceylon, as Sri Lanka was then called, in order to take up a position as a missionary and science teacher at Trinity College, Kandy, becoming a much respected man on the island. In 1913 he returned to England for the first time, in order to get married, before returning once more to Ceylon.
After the outbreak of war he sailed for home once again, arriving on New Year's Day 1915, and within a week had signed up as a member of the London Scottish. After only three weeks he was given a commission in the Oxfordshire and Buckinghamshire Light Infantry, before subsequently being transferred to the Royal Engineers, where his chemistry expertise meant that Norman was placed in a division focussed upon gas attacks. After being sent to France in August he was subsequently wounded at Loos on 25th September, returning to action in November. In January of the following year he was promoted to Lieutenant, and in April to Captain, being involved in many of the major engagements on the Western Front during this period. On May 3rd 1917 he was returning from scouting out a forward position at Pelves Lane, near Rouex, when he was fatally wounded in the neck by a German machine gun. He was survived by his widow, Lettice.