Brown, KA
(1896 - 1918)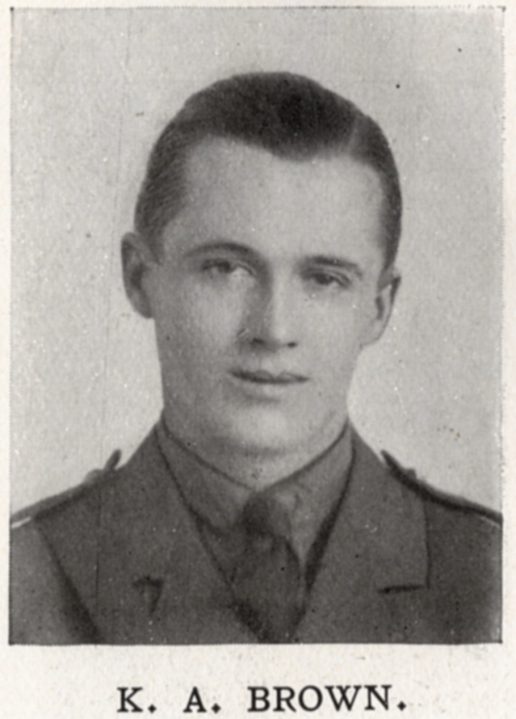 Key Facts
DATE OF BIRTH:
3rd May 1896
YEARS ATTENDED THE COLLEGE:
1909 - 1912
HOME ADDRESS WHEN AT THE COLLEGE:
15 York Road, West Norwood
REGIMENT
1st Battalion, The Queen's Royal West Surrey Regiment
FINAL RANK:
Captain
DATE OF DEATH:
22nd September 1918
AGE AT DEATH:
22
WHERE HE DIED (or was wounded)
Epehy
LOCATION OF GRAVE OR MEMORIAL:
Five Points Cemetery, Lechelle. C 22
Captain Keith Andrews Brown
Keith was born on 3rd May 1896 in Dulwich, the second son of George Brown and his wife Alice, and followed in the footsteps of his elder brother Clive by coming to the College. After leaving he had travelled to the north of England, and was engaged as a farmer when the war broke out.
Upon this occurring he returned at once to London and, along with his friend and fellow OA Athole Ford, signed up as a member of the Queen's Westminster Rifles, going out to France that same autumn. In February Keith returned to England, having been recommended for a course at Sandhurst, which he took, being commissioned as a 2nd Lieutenant in the Royal West Surreys in October 1915. A month later he returned to France, at first joining the 2nd Battalion of his new regiment, staying at the front for nearly eight months until, on July 15th, during the fighting near High Wood on the Somme, he was severely wounded and invalided home. In January 1917 he returned to light duty in England, working with the 3rd Battalion at Sittingbourne, before in June returning once more to the continent; the rest of 1917 saw promotions, first to Lieutenant before, in October, being made a Captain. During the first half of 1918 he often commanded his battalion in engagements and, significantly, was in charge of a detachment of West Surreys who were part of the Bastille Day Parade through Paris. On September 21st he was leading his men into battle near Epehy when he was mortally wounded, passing away the following day. His elder brother Clive, a fellow OA, was to pass away from influenza six weeks later.