Bell, GH
(1869 - 1916)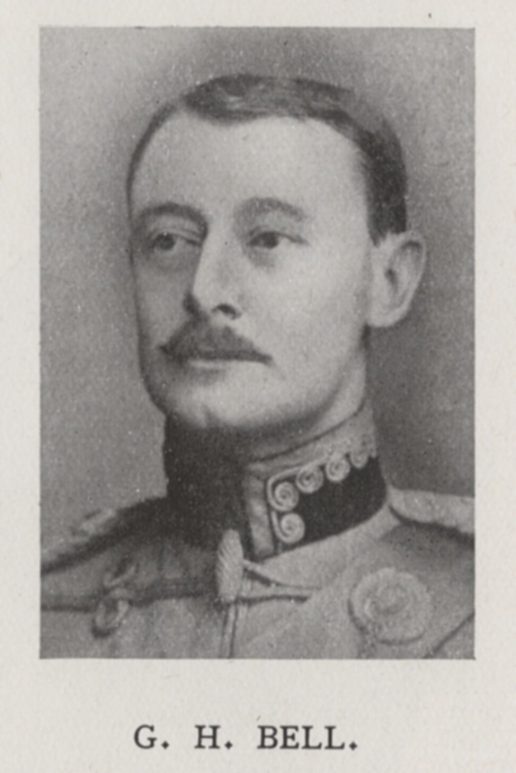 Key Facts
DATE OF BIRTH:
11th April 1869
YEARS ATTENDED THE COLLEGE:
1882 - 1886
HOME ADDRESS WHEN AT THE COLLEGE:
Rosendale Road, West Dulwich
REGIMENT
27th Punjabis, Indian Army
FINAL RANK:
Lieutenant Colonel
DATE OF DEATH:
3rd September 1916
AGE AT DEATH:
47
WHERE HE DIED (or was wounded)
Kashmir
LOCATION OF GRAVE OR MEMORIAL:
Karachi 1914-1918 War Memorial
Lieutenant Colonel George Henry Bell
George was born on 11th April 1869, the son of George Coates Bell, a Surgeon Major in the Bombay Medical Department. He started at Dulwich at the same time as his brother, Claude; his sister, Alice, would go on to marry a fellow OA, Walter Orr. From the College he proceeded to Sandhurst and upon passing out in August 1888 took up a commission in the King's Own Scottish Borderers with whom he saw service during the next two years in the Sudan and as part of the Nile Campaign. In 1890 his unit went to India, and a year later he joined the Indian Army as a Lieutenant, first with the 19th Punjabis before, in 1893, switching to the 38th Dogras. During this period he spent much of his service on the North West Frontier, becoming familiar with the small forts that were common there, as well as with the Punjab in general. In 1896 he was appointed Adjutant to the 27th Punjabis and was later made Captain in 1899. He saw active service in 1901-2 in the Waziristan Campaign, and again in the following two years, as his regiment was sent to the Somaliland (modern day Somalia). In 1906 the 27th Punjabis returned to the North West Frontier, and George was to serve primarily along the border until the outbreak of war.
In October 1914 he and his regiment were transferred to Europe, albeit along the way they were also involved in repelling an attack on the Suez Canal. Upon reaching France he was second in command of the regiment during the Battle of Loos and was subsequently given command of the 69th Punjabis, who had suffered heavy losses in the Battle. He subsequently took his new regiment east, serving with them as they fought from the Suez across the Arabian Peninsula. In February 1916 he was ordered to Mesopotamia to take command of the 9th Bhopals; however shortly after arriving he was taken seriously ill and invalided back to India. "Bell Sahib", as he was known amongst his Indian troops, died at Srinagar in Kashmir whilst still on sick leave on 3rd September 1916, his wife, Eva, having joined him from England a week earlier.