HJU Wilkins Letters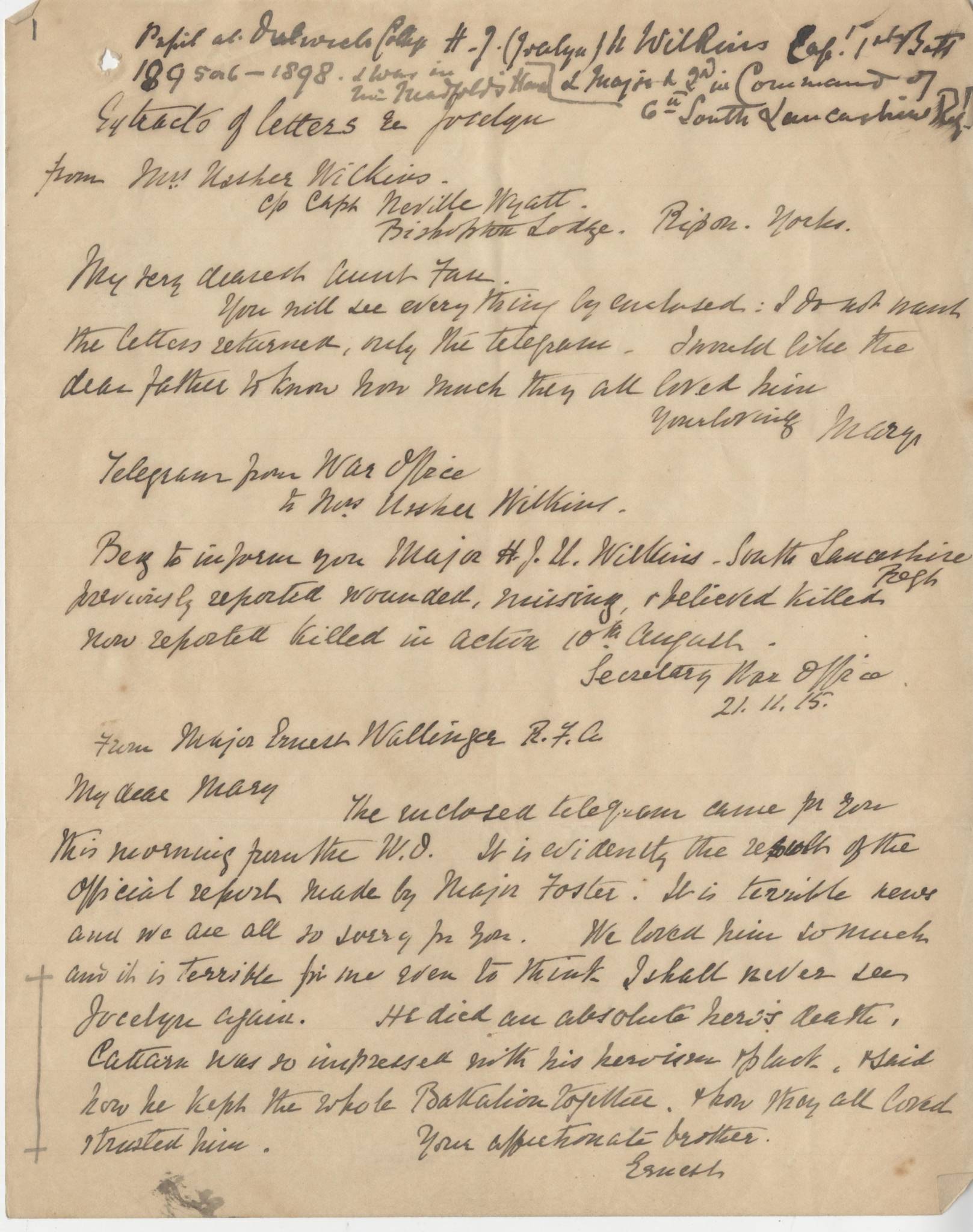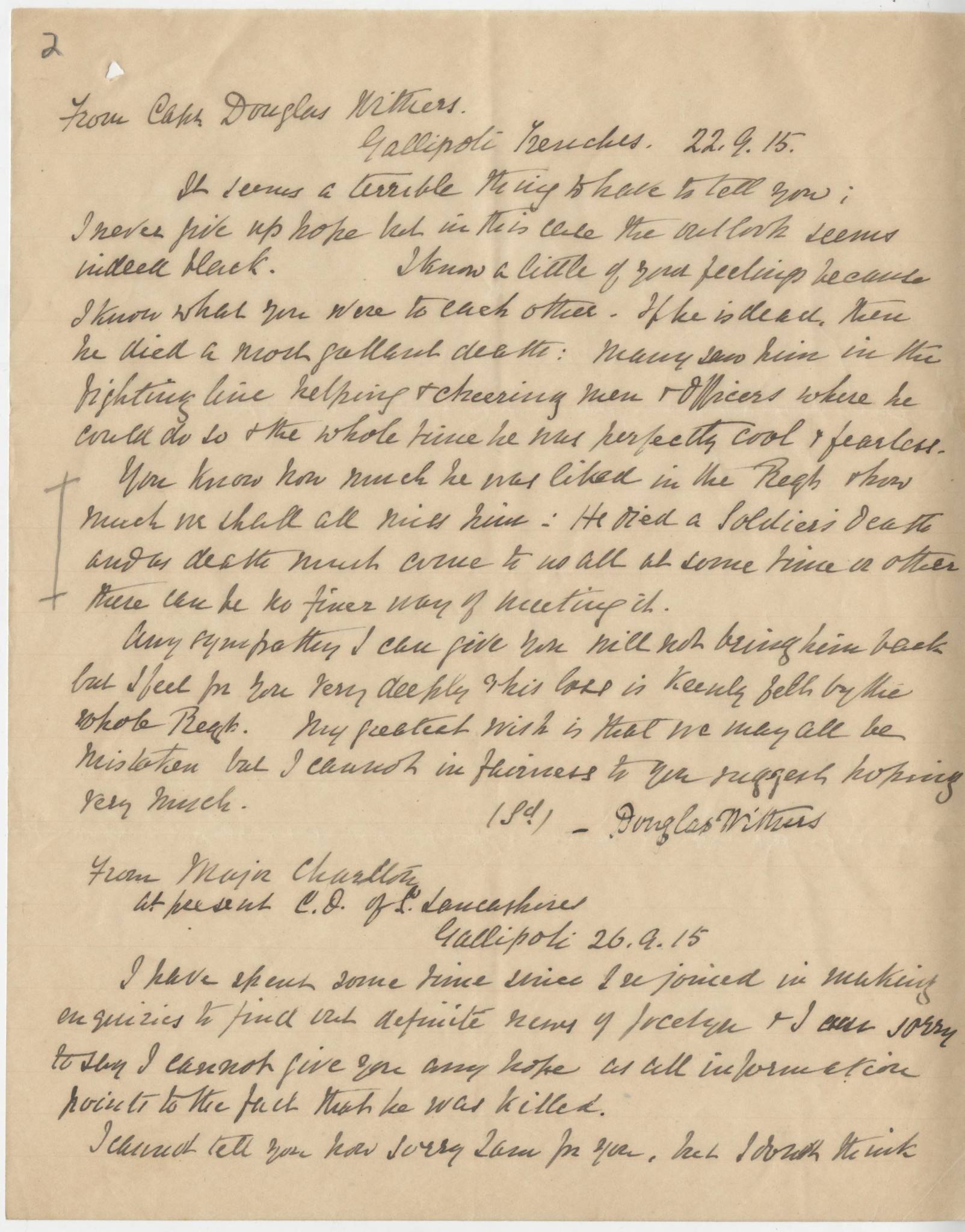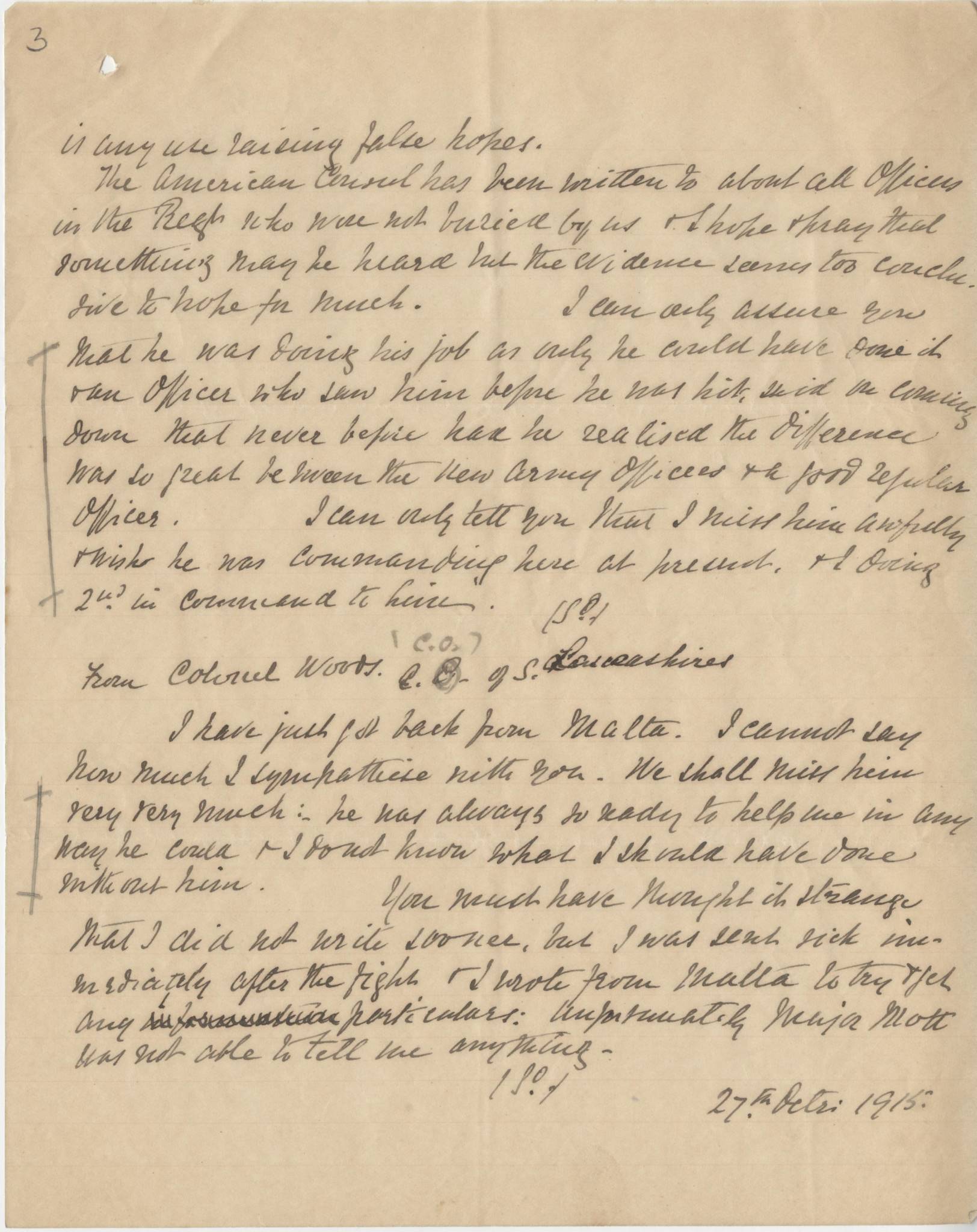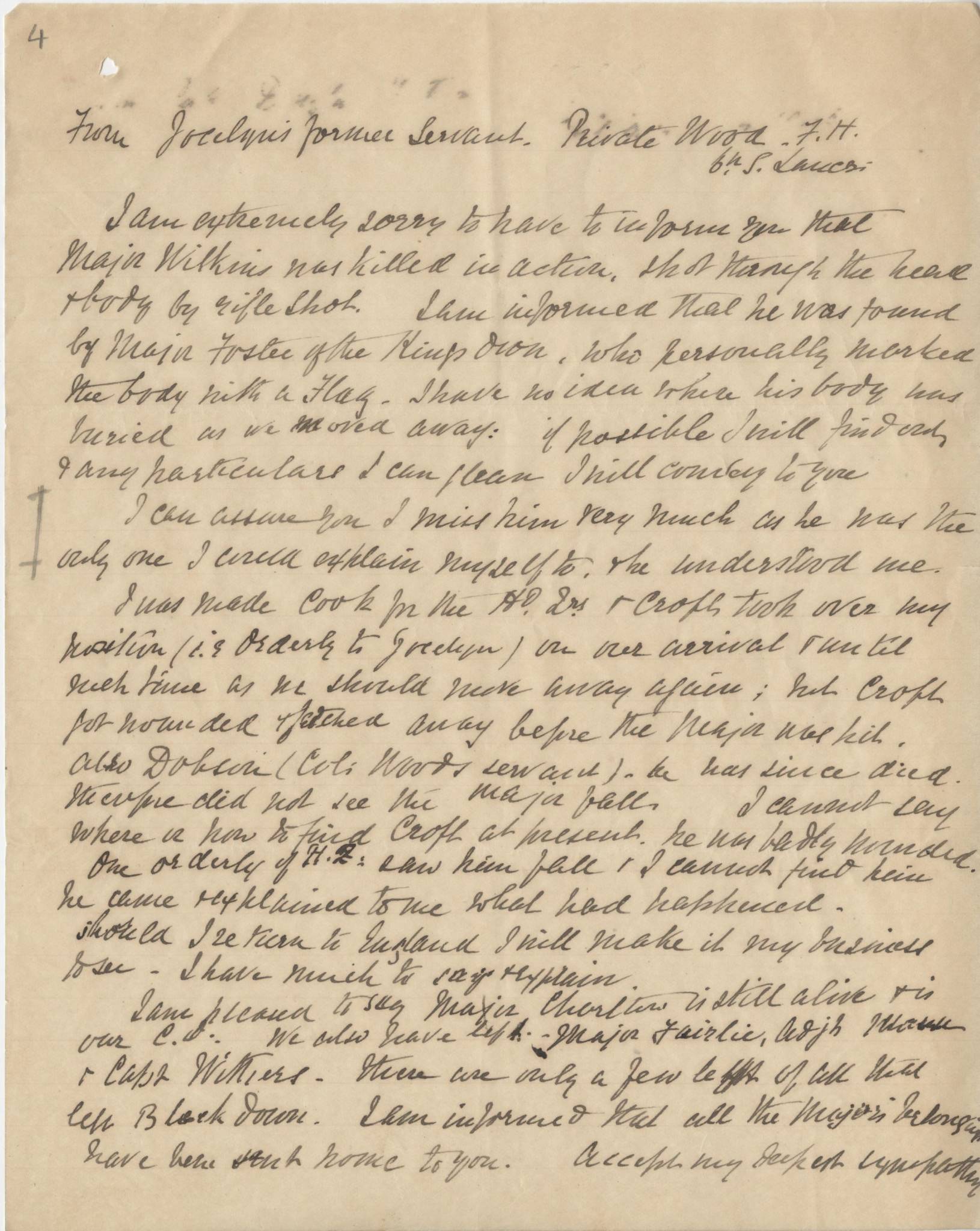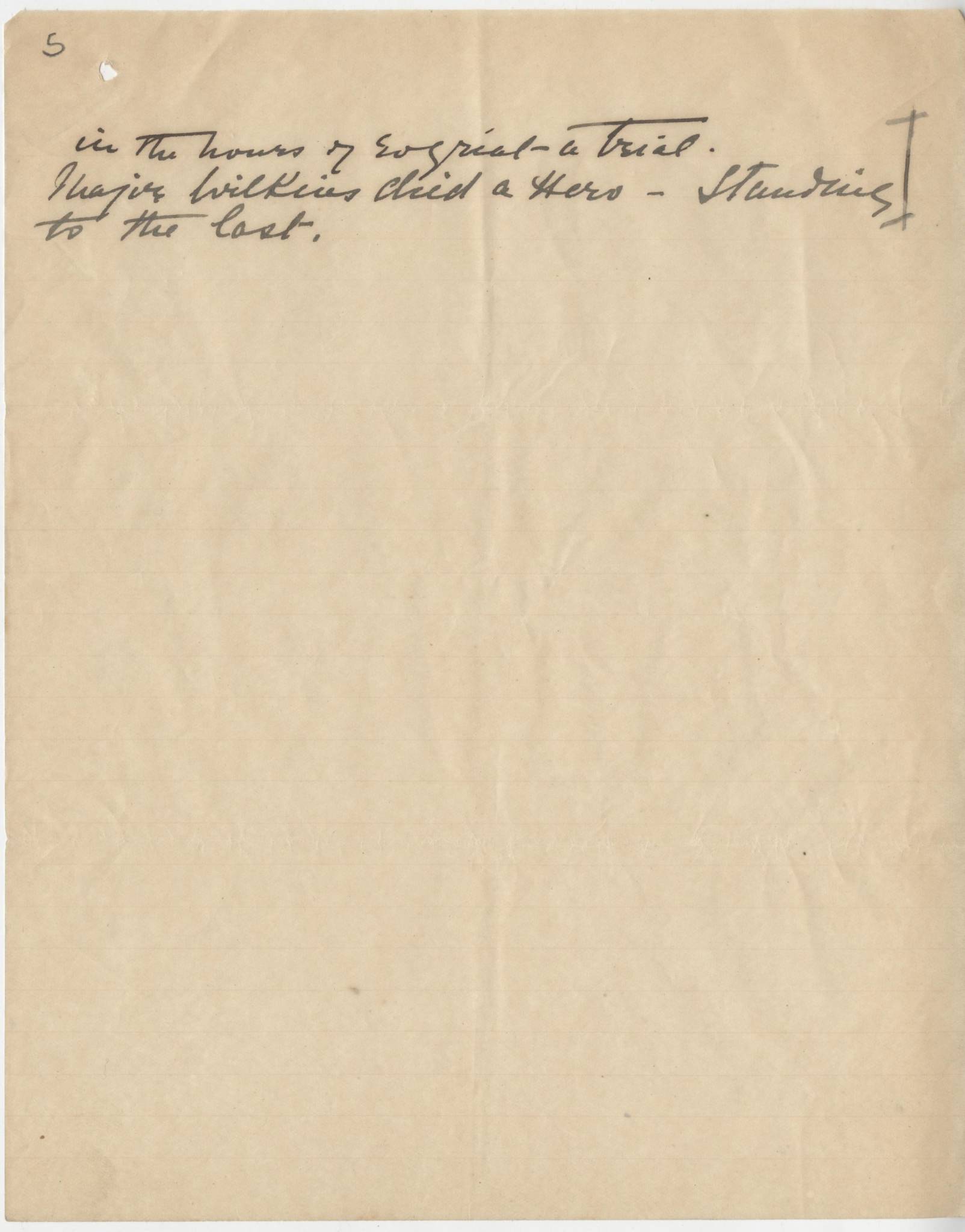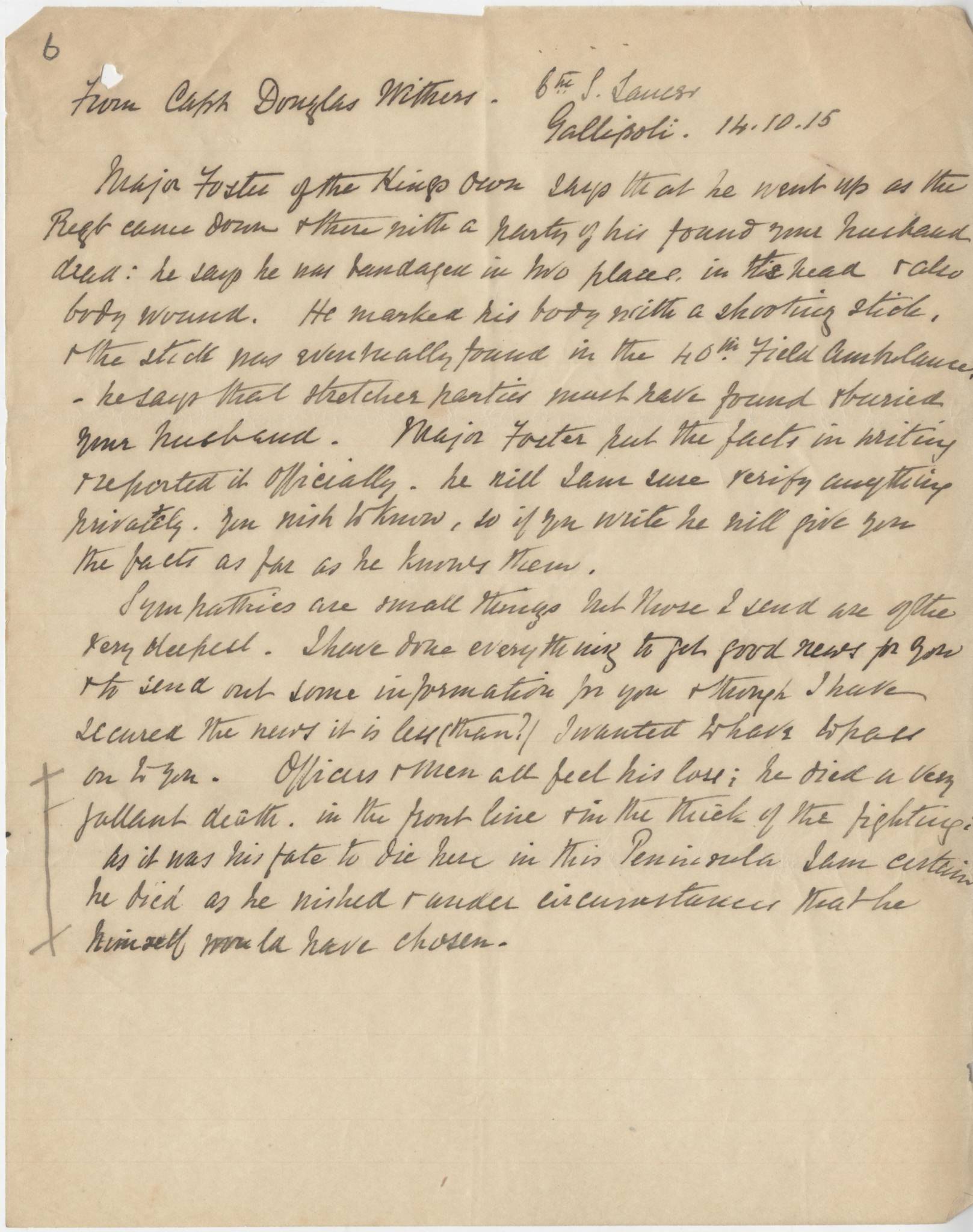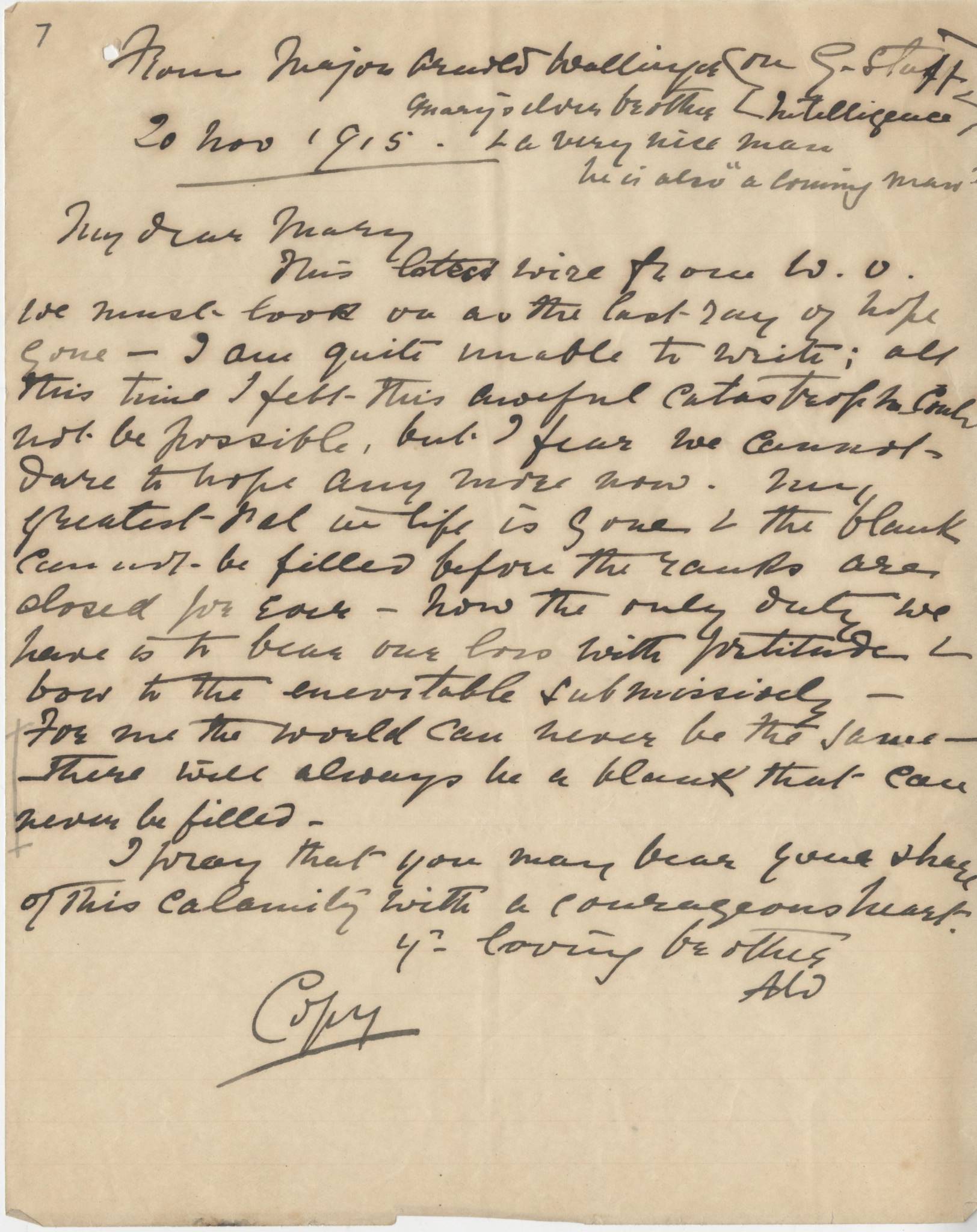 H.J.(Jocelyn)U. Wilkins
Pupil at Dulwich College 1895or6-1898 & was in Mr. Treadgold's House
Capt. 1st Batt. & Major & 2nd in Command of 6th South Lancashire Regt.
Extracts of letters to Jocelyn
From Mrs. Ussher Wilkins.
c/o Capt. Neville Wyatt
Bishopton Lodge.        Ripon. Yorks.
My very dearest Aunt [Fan.?],
You will see everything [by?] enclosed: I do not want the letters returned, only the telegram. I would like the dear father to know how much they all loved him
Your loving Mary
Telegram from War Office
To Mrs. Ussher Wilkins.
Beg to inform you Major H.J.U. Wilkins – South Lancashire Regiment – previously reported wounded, missing & believed killed now reported killed in action 10th August.
Secretary War Office 21.11.15
From Major Ernest Wallinger R.F.A.
My dear Mary,
The enclosed telegram came for you this morning from the W.O. It is evidently the results of the official report made by Major Foster. It is terrible news and we are all so sorry for you. We loved him so much and it is terrible for me even to think I shall never see Jocelyn again. He died an absolute hero's death, [Captain?] was so impressed with his heroism & pluck, & said how he kept the whole battalion together & how they all loved & trusted him.
Your affectionate brother
Ernest
[2]
From Capt. Douglas Withers.
Gallipoli Trenches 22.9.15.
It seems a terrible thing to have to tell you; I never give up hope but in this case the outlook seems indeed bleak. I know a little of your feelings because I know what you were to each other. If he is dead, then he died a most gallant death: many saw him in the fighting line helping & cheering men & officers where he could do so & the whole time he was perfectly cool & fearless.
You know how much he was liked in the Regt. & how much we shall all miss him. He died a soldier's death and as death must come to us all at some time or other there can be no finer way of meeting it.
Any sympathy I can give you will not bring him back but I feel for you very deeply & his loss is keenly felt by the whole Regt. My greatest wish is that we may all be mistaken but I cannot in fairness to you suggest hoping very much.
(Sd.)  Douglas Withers
From Major Charlton
At present C.O. of S. Lancashires
Gallipoli 26.9.15
I have spent some time since I rejoined in making enquiries to find out definite news of Jocelyn & I am sorry to say I cannot give you any hope as all information points to the fact that he was killed.
I cannot tell you how sorry I am for you, but I don't think [3] it any use raising false hopes.
The American Consul has been written to about all Officers in the Regt. who were not buried by us & I hope & pray that something may be heard but the evidence seems too conclusive to hope for much. I can only assure you that he was doing his job as only he could have done it & an officer who saw him before he was hit, said on coming down that never before had he realised the difference was so great between the new Army Officers & a good regular officer. I can only tell you that I miss him awfully & wish he was commanding here at present, & I being 2nd in command to him.
[Sd.]
From Colonel Woods.
C.O. of S. Lancashires
I have just got back from Malta. I cannot say how much I sympathise with you. We shall miss him very, very much: he was always so ready to help me in any way he could & I do not know what I should have done without him.
You must have thought it strange that I did not write sooner, but I was sent sick immediately after the fight & I wrote from Malta to try & get any particulars. Unfortunately Major Mott was not able to tell me anything.
[Sd.]
27th Octo. 1915
[4]
From Jocelyn's former Servant, Private Wood, F.H.
6th S. Lancs.
I am extremely sorry to have to inform you that Major Wilkins was killed in action, shot through the head & body by rifle shot. I am informed that he was found by Major Foster of the Kings Own, who personally marked the body with a flag. I have no idea where his body was buried as we moved away: if possible I will find out & any particulars I can glean I will convey to you.
I can assure you I miss him very much as he was the only one I could explain myself to & he understood me.
I was made cook for the [Hdqrs?] & Crofts took over my position (i.e. orderly to Jocelyn) on our arrival & until such time as we should move away again; but Crofts got wounded & fetched away before the Major was hit, also Dobson (Col. Woods' servant) – he has since died. [?????] did not see the major fall. I cannot say where & how to find Croft at present, he was badly wounded. One orderly of H.[L?] saw him fall & I cannot find him, he came & explained to me what had happened. Should I return to England I will make it my business to see – I have much to say & explain.
I am pleased to say Major Charlton is still alive & is our C.O. We also have left Major Fairlie, Adjt. [Mann?] & Capt. Withers. There are only a few left of all that left Blackdown. I am informed that all the Major's belongings have been sent home to you. Accept my deepest sympathy [5] in the hours of so great a trial.
Major Wilkins died a hero – Standing to the last.
[6]
From Capt. Douglas Withers – 6th S. Lancs.
Gallipoli 14.10.15
Major Foster of the King's Own says that he went up as the rest came down & there with a party of his found your husband dead: he says he was bandaged in two places, in his head & also body wound. He marked his body with a shooting stick, & the stick was eventually found in the 40th Field Ambulance – he says that stretcher parties must have found & buried your husband. Major Foster put the facts in writing & reported it officially, he will I am sure verify anything privately you wish to know, so if you write he will give you the facts as far as he knows them.
Sympathies are small things but those I send are of the very deepest. I have done everything to get good news for you & to send out some information for you & though I have secured the news it is less than I wanted to have to pass on to you. Officers & men all feel his loss; he died a very gallant death in the front line & in the thick of the fighting; as it was his fate to die here in this Peninsula I am certain he died as he wished & under circumstances that he himself would have chosen.
[7]
From Major Arnold Wallinger (on G. Staff Intelligence)
Mary's elder brother & a very nice man. He is also "a loving man"
20 Nov. 1915
My dear Mary,
This latest wire from the W.O. [War Office] we must look on as the last day of hope gone – I am quite unable to write; all this time I felt this awful catastrophe could not be possible, but I fear we cannot dare to hope any more now. My greatest pal in life is gone & the blank cannot be filled before the ranks are closed for [ever?] – now the only duty we have is to bear our loss with fortitude & bow to the inevitable submissively – for me the world can never be the same – there will always be a blank that can never be filled.
I pray that you may bear your share of this calamity with a courageous heart.
Your loving brother
AW
Copy