HA Ripman First Widow Letter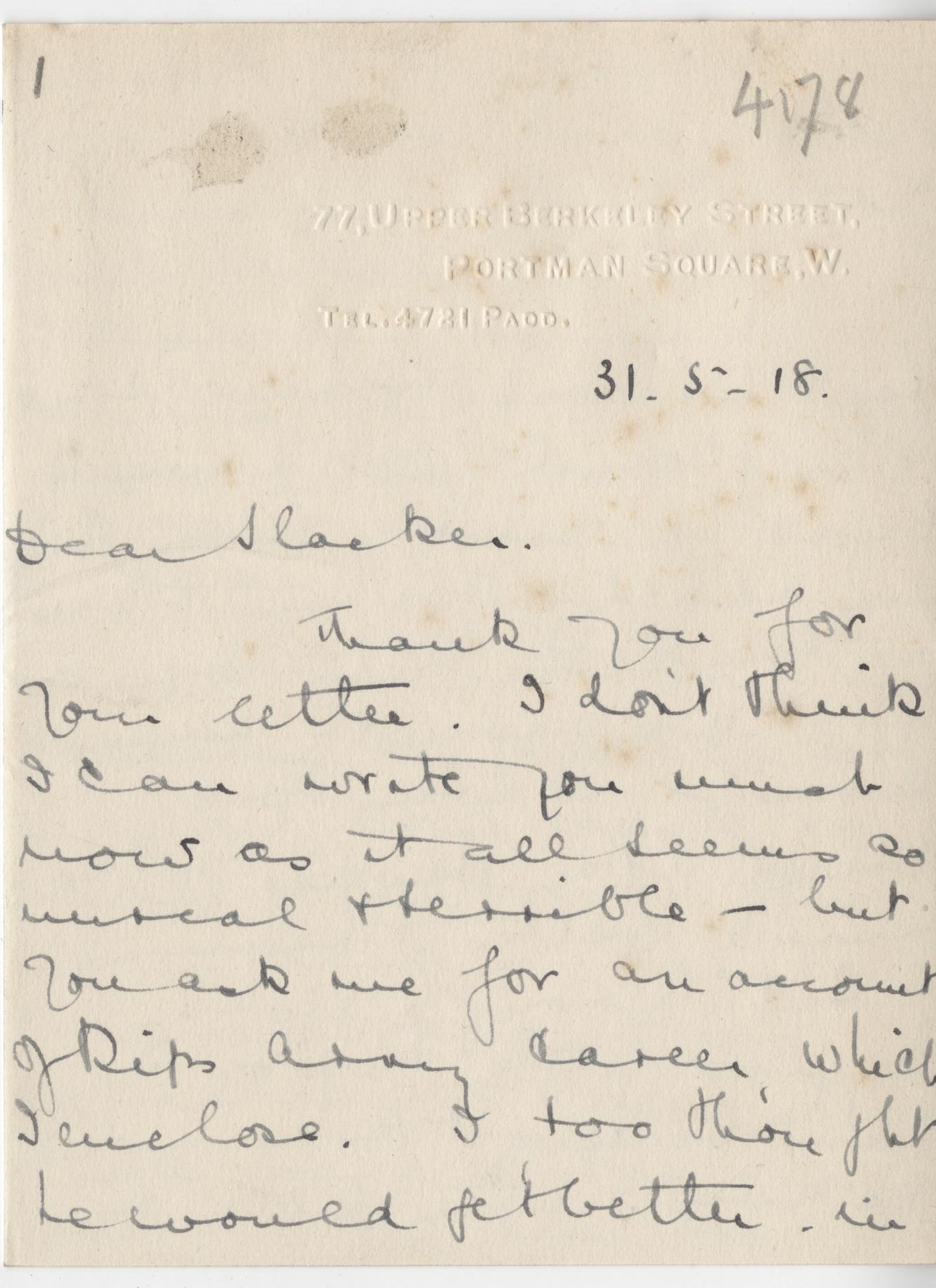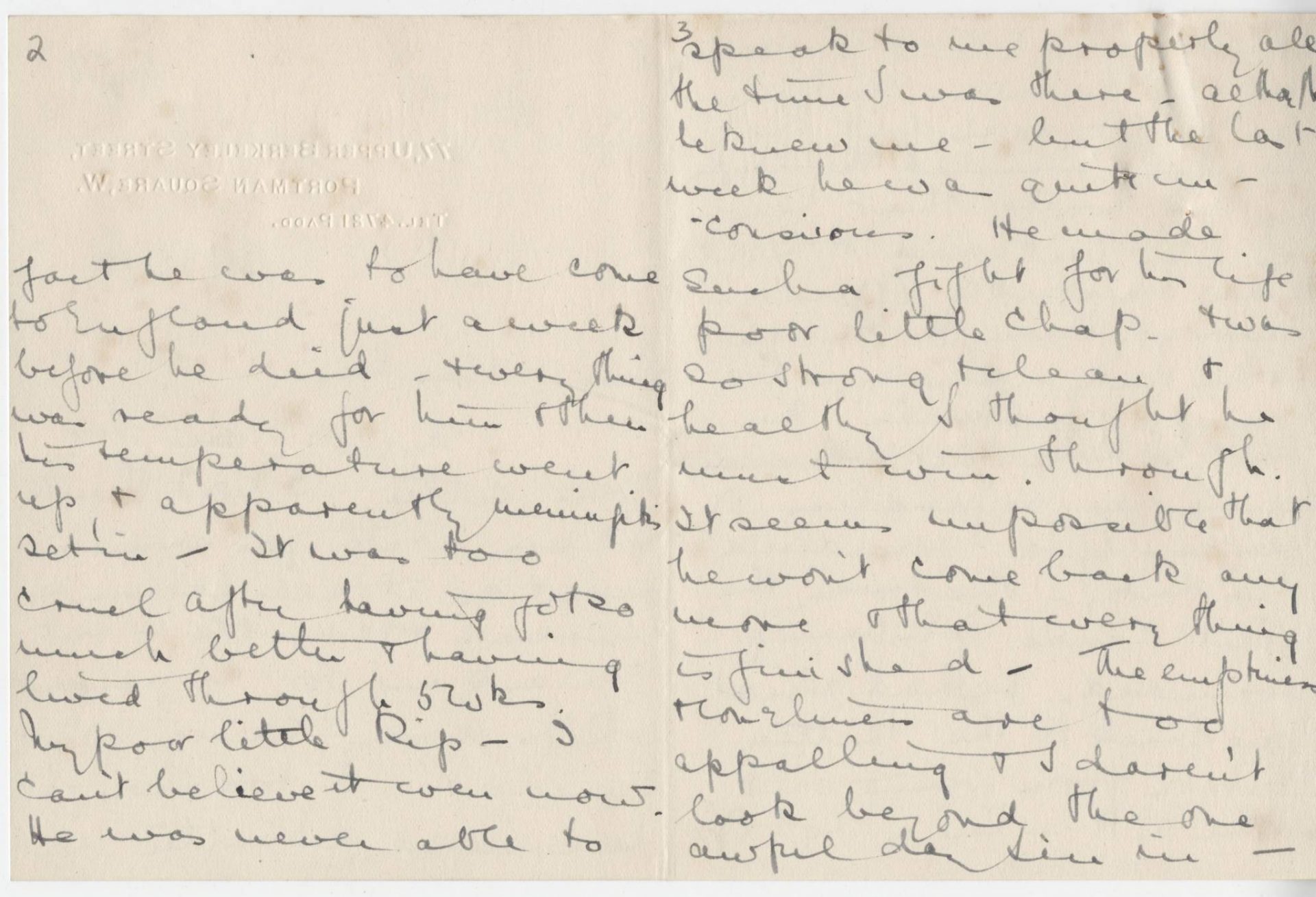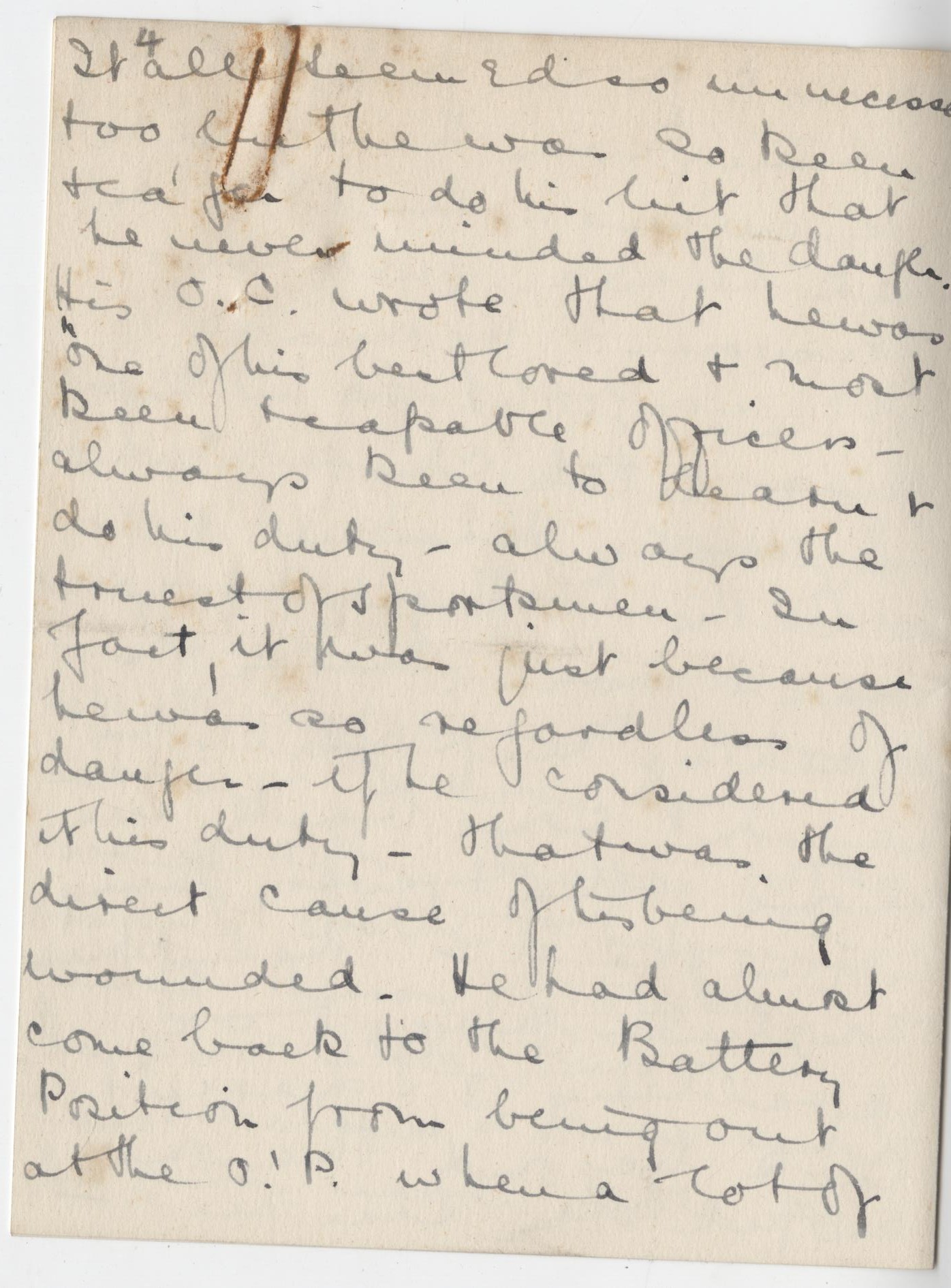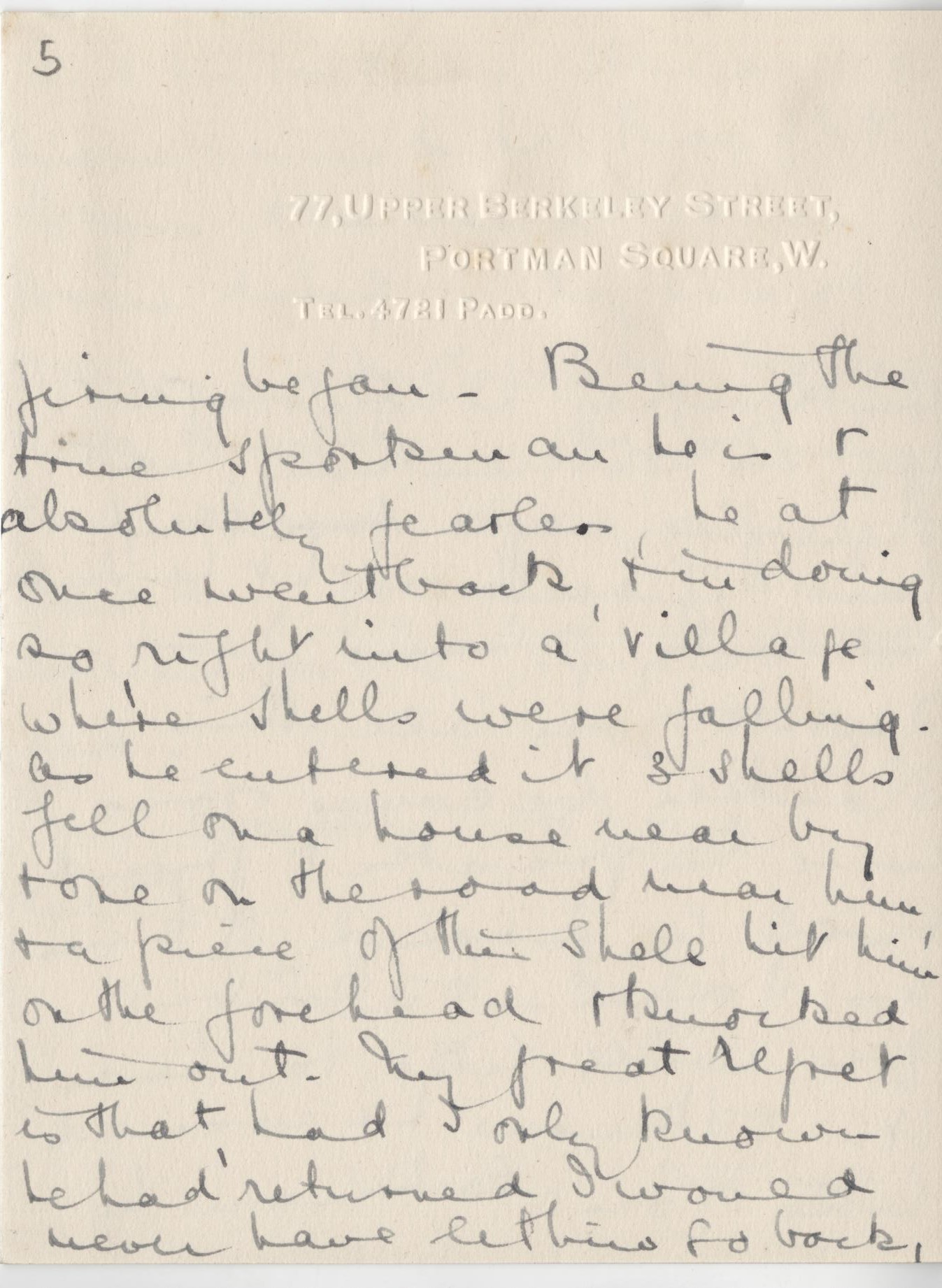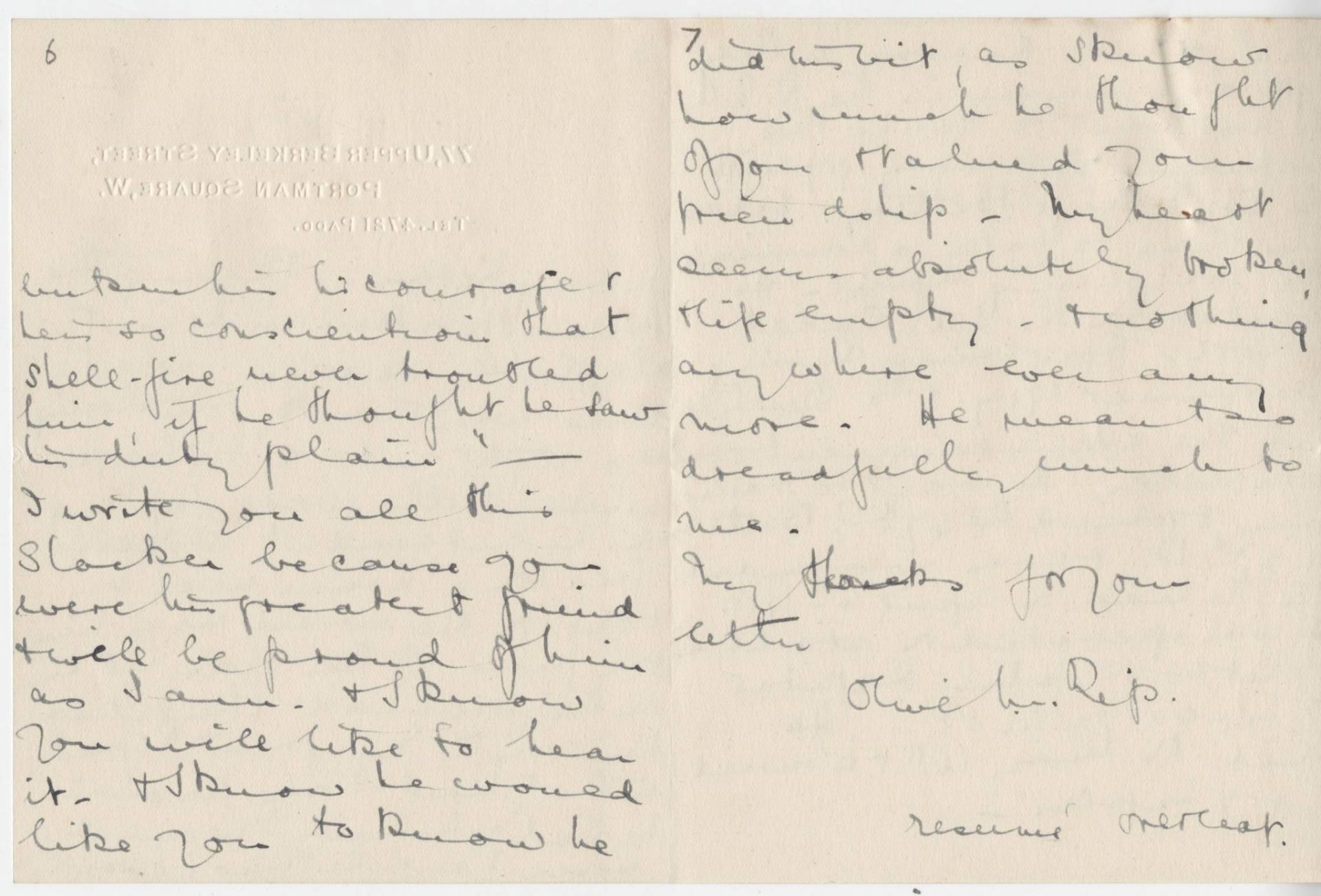 31.5.18
Dear Slacker,
Thank you for your letter. I don't think I can write very much now as it all seems so unreal & terrible – but you ask me for an account of Rip's army career, which I enclose. I too thought that he would get better, in [2] fact he was to have come to England just a week before he died & everything was ready for him & then his temperature went up & apparently meningitis set in – it was too cruel after having got so much better & having lived through the [????]. My poor little Rip – I can't believe it even now. He was never able to [3] speak to me properly at the time I was there – [??????] he knew me – but the last week he was quite unconscious. He made such a fight for his life poor little chap & was so strong & clean & healthy that I thought he must win through. It seems impossible that he won't come back any more & that everything is finished. The emptiness & [???????] are too appalling & I daren't look beyond the one awful day [?????]. [4] It all seemed so unnecessary too that he was so keen & [????] to do his bit that he never minded the danger. His O.C. wrote that he was one of his best loved & most keen & capable officers. Always keen to learn & do his duty – always the truest of sportsmen – in fact it was just because he was so regardless of danger – if he considered if he considered it his duty – that was the direct cause of his being wounded. He had almost come back to the Battery Position from being out at the O.P. when a lot of [5] firing began. Being the true sportsman he is & absolutely fearless he at once went back, & in doing so right into a village where shells were falling, as he entered it 3 shells fell on a house nearby & one on the road near him & a piece of the shell hit him on the forehead & knocked him out. My great regret is that had I only known he had returned I would never have let him go back, [6] but such is his courage & he's so conscientious that shell-fire never troubled him, if he thought he saw his duty plain.
I write you all this Slacker because you were his greatest friend & will be proud of him as I am & I know you will like to hear it. & I know he would like you to know he [7] did his bit, as I know how much he thought of you & valued your friendship. My heart seems absolutely broken, & life empty & nothing anywhere ever anymore. He meant so dreadfully much to me.
My thanks for your letter
Olive M. Rip.
Resume overleaf
[8] Rip joined the army in May 1916 as a gunner in the R.G.A. He first went to France the beginning of January 1917 with the 245th Siege Battery. He was sent home to take a commission the following April. He went to the R.G.A. Cadet School Trowbridge during the summer [of] 1917 & to Bexhill till the commencement of December. He went to France then & joined the 47th S. Batt [Siege Battery] as a 2nd Lt. He was wounded in the head on April 6th 1918. He was operated on A.C.C.S. & sent to St. John's Hospital, Etaples on the 8th. He died on May 16th & is buried at Etaples.