GK Simpson Career Description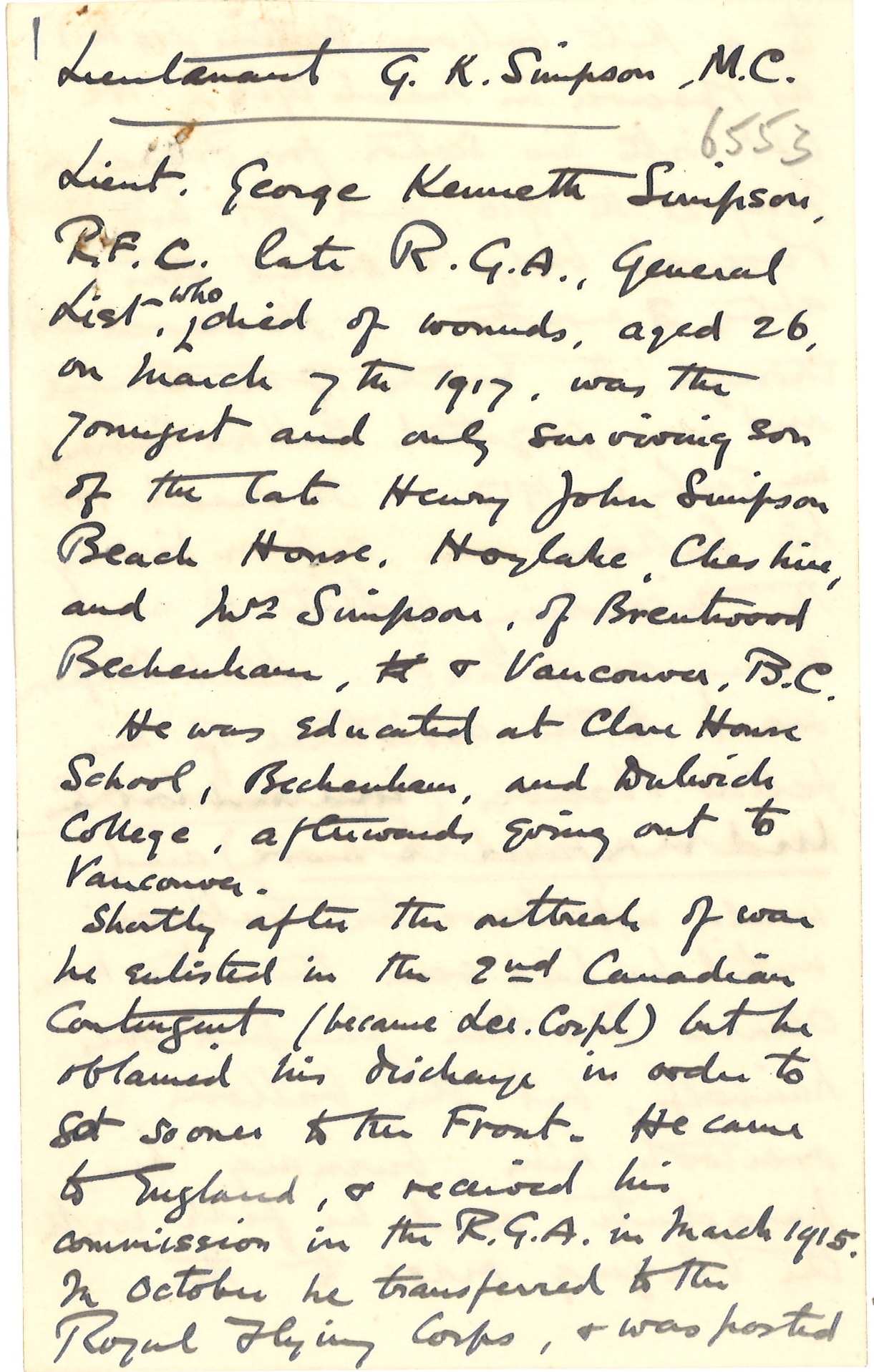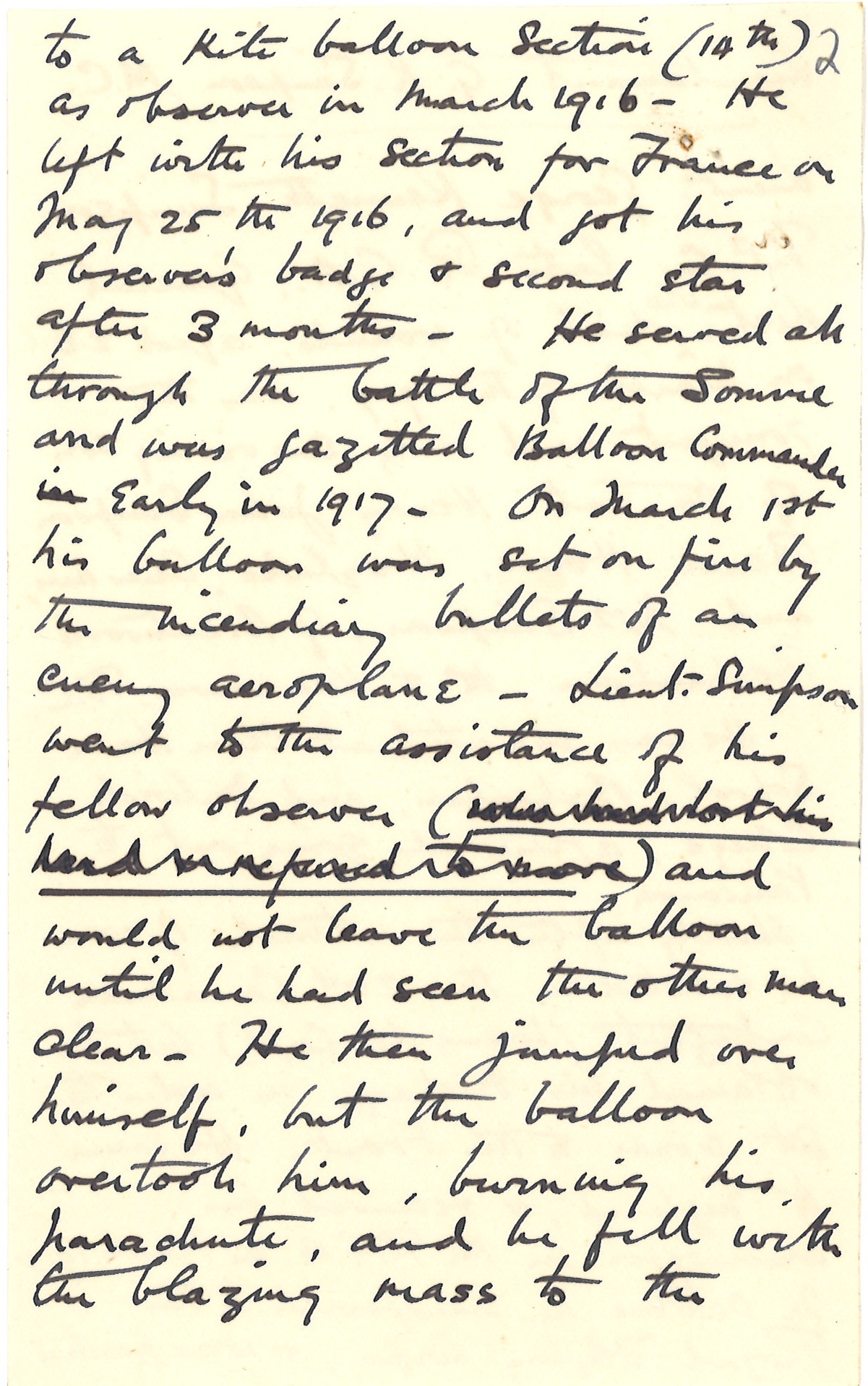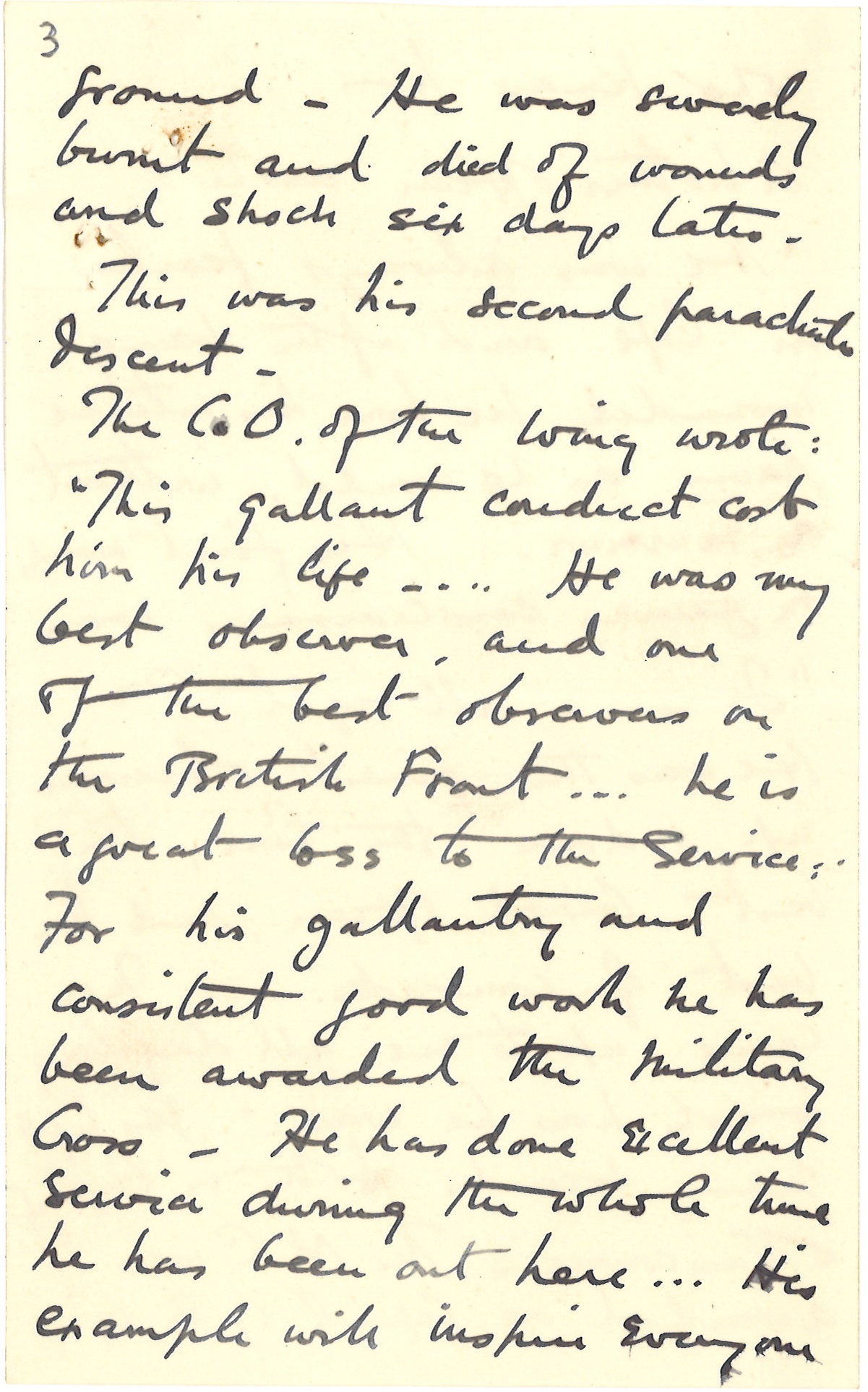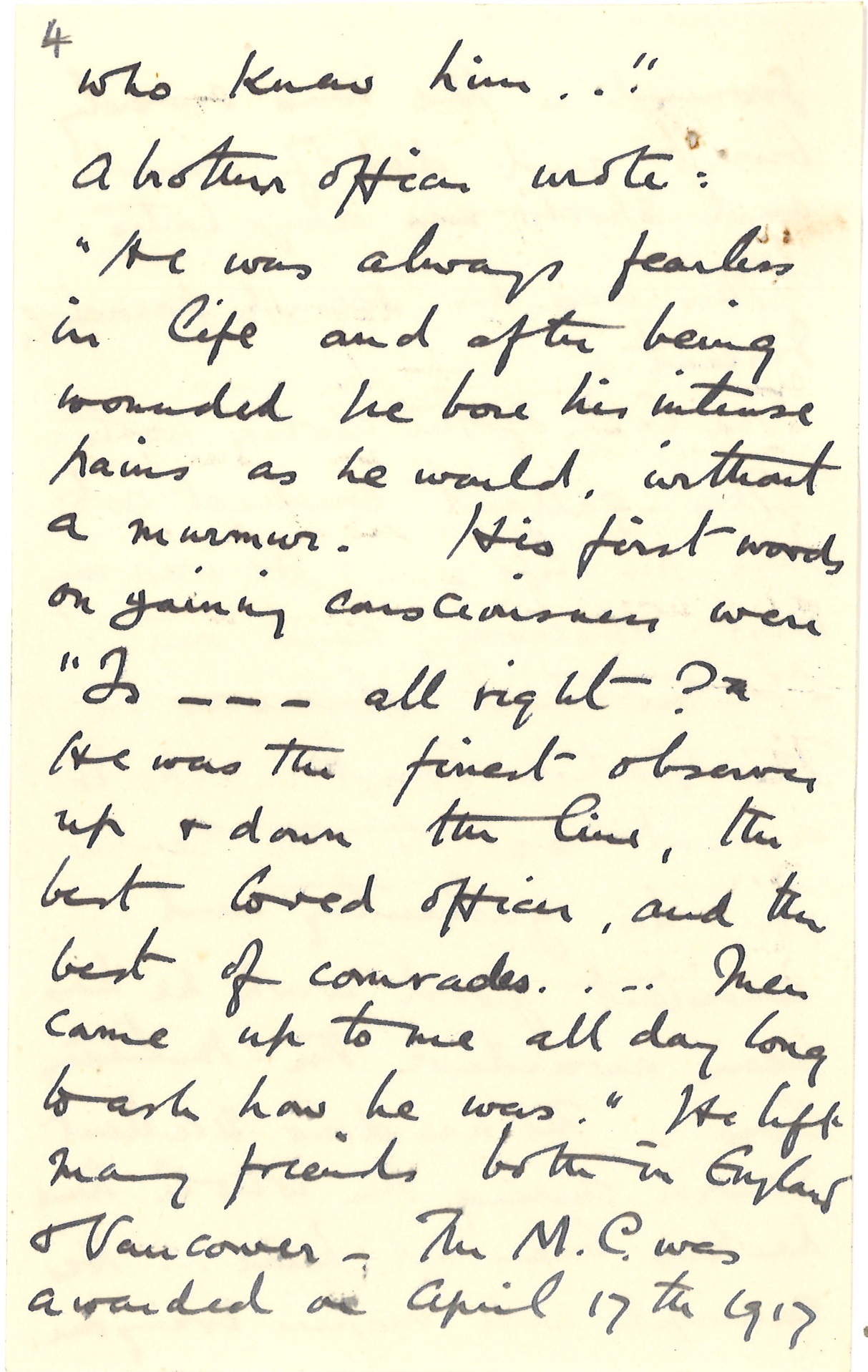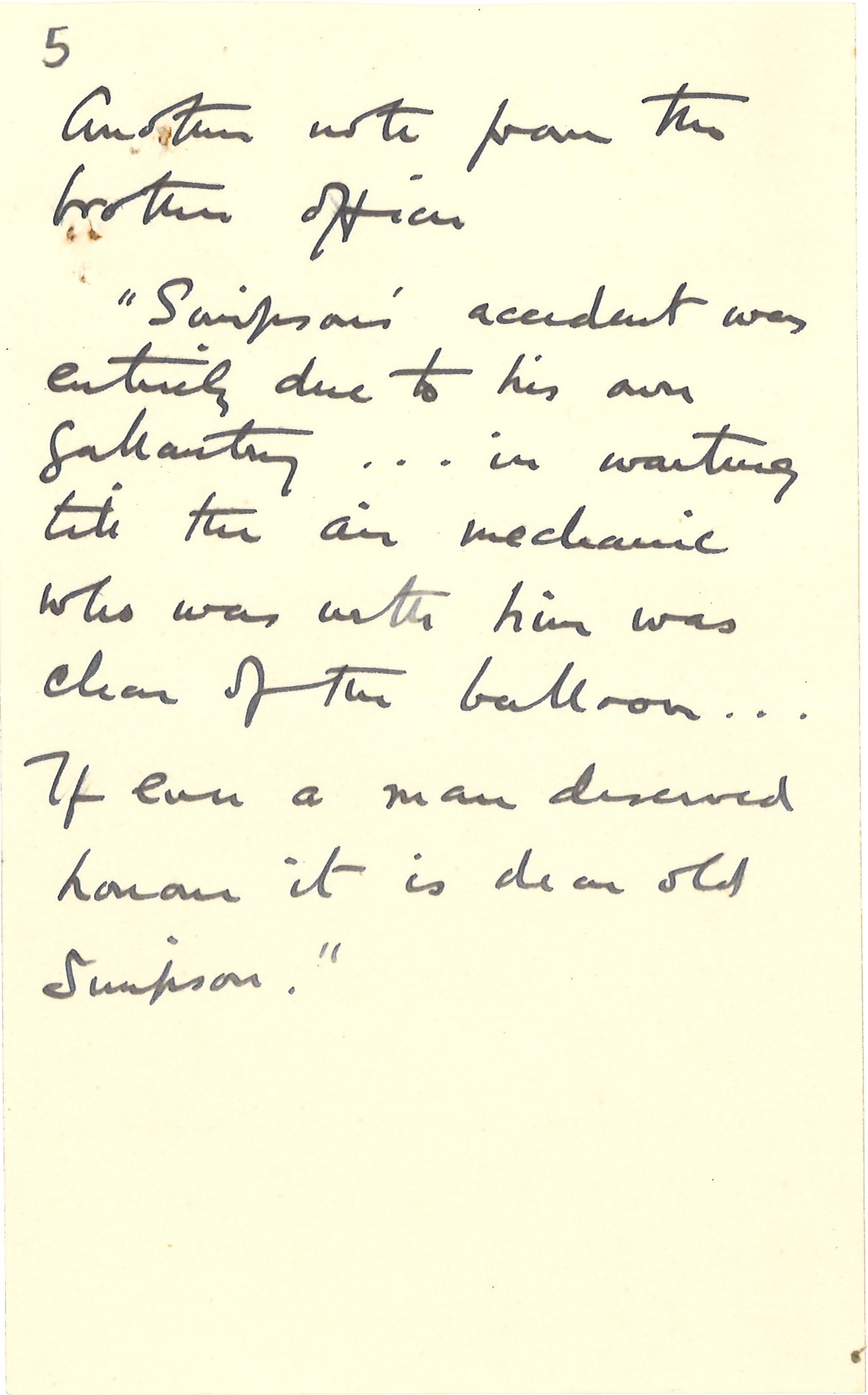 Lieutenant G.K. Simpson, M.C.
Lieut. George Kenneth Simpson, R.F.C. late R.G.A., General List, who died of wounds, aged 26, on March 7th 1917, was the youngest and only surviving son of the late Henry John Simpson, Beach House, Hoylake, Cheshire, and Mrs. Simpson, of Brentwood, Beckenham & Vancouver, B.C.
He was educated at Clare House School, Beckenham, and Dulwich College, afterwards going out to Vancouver.
Shortly after the outbreak of war he enlisted in the 2nd Canadian Contingent (became Lce. Corporal) but he obtained his discharge in order to get sooner to the front. He came to England, & received his commission in the R.G.A. in March 1915. In October he transferred to the Royal Flying Corps, & was posted [2] to a kite balloon section (14th) as observer in March 1916. He left with his section for France on May 25th 1916, and got his observer's badge & second star after 3 months. He served all through the Battle of the Somme and was gazetted Balloon Commander early in 1917. On March 1st his balloon was set on fire by the incendiary bullets of an enemy aeroplane. Lieut. Simpson went to the assistance of his fellow observer (XXXXXXXXX) and would not leave the balloon until he had seen the other man clear. He then jumped over himself, but the balloon overtook him, burning his parachute, and he fell with the blazing mass to the [3] ground. He was severely burnt and died of wounds and shock six days letter.
This was his second parachute descent.
The C.O. of the wing wrote: "this gallant conduct cost him his life… He was my best observer, and one of the best observers on the British Front… he is a great loss to the Service: for his gallantry and consistent good work he has been awarded the Military Cross. He has done excellent service during the whole time he has been out here… His example will inspire everyone [4] who knew him…"
A brother officer wrote: "he was always fearless in life and after being wounded he bore his intense pains as he would, without a murmur. His first words on gaining consciousness were 'Is _ _ _ all right?' He was the finest observer up & down the line, the best loved officer, and the best of comrades… Men came up to me all day long to ask how he was." He left many friends both in England & Vancouver. The M.C. was awarded on April 17th 1917. [5]
Another note from the brother officer:
"Simpson's accident was entirely due to his own gallantry… in waiting till the air mechanic who was with him was clear of the balloon… If ever a man deserved honour it is dear old Simpson."