GEK Bemand Letter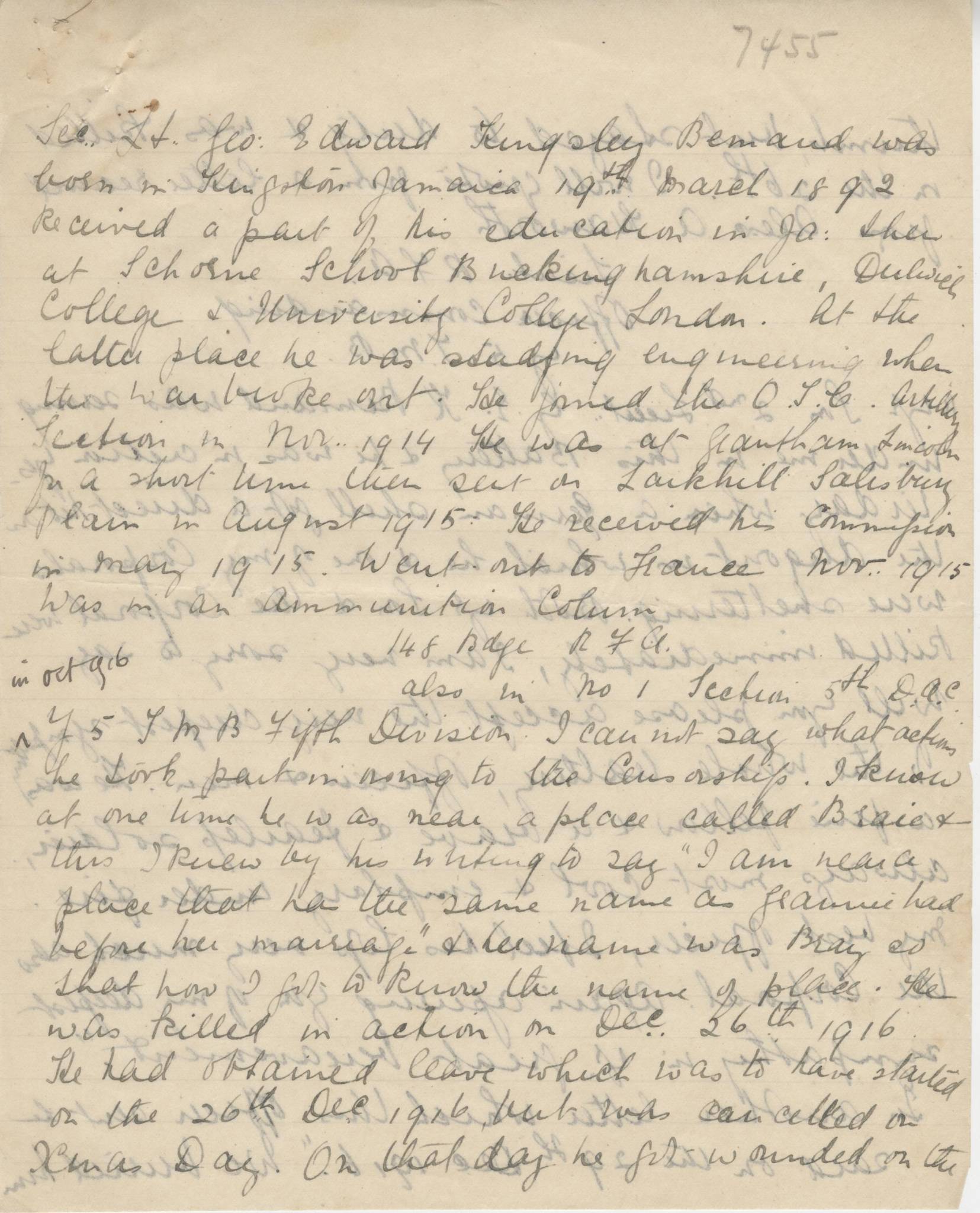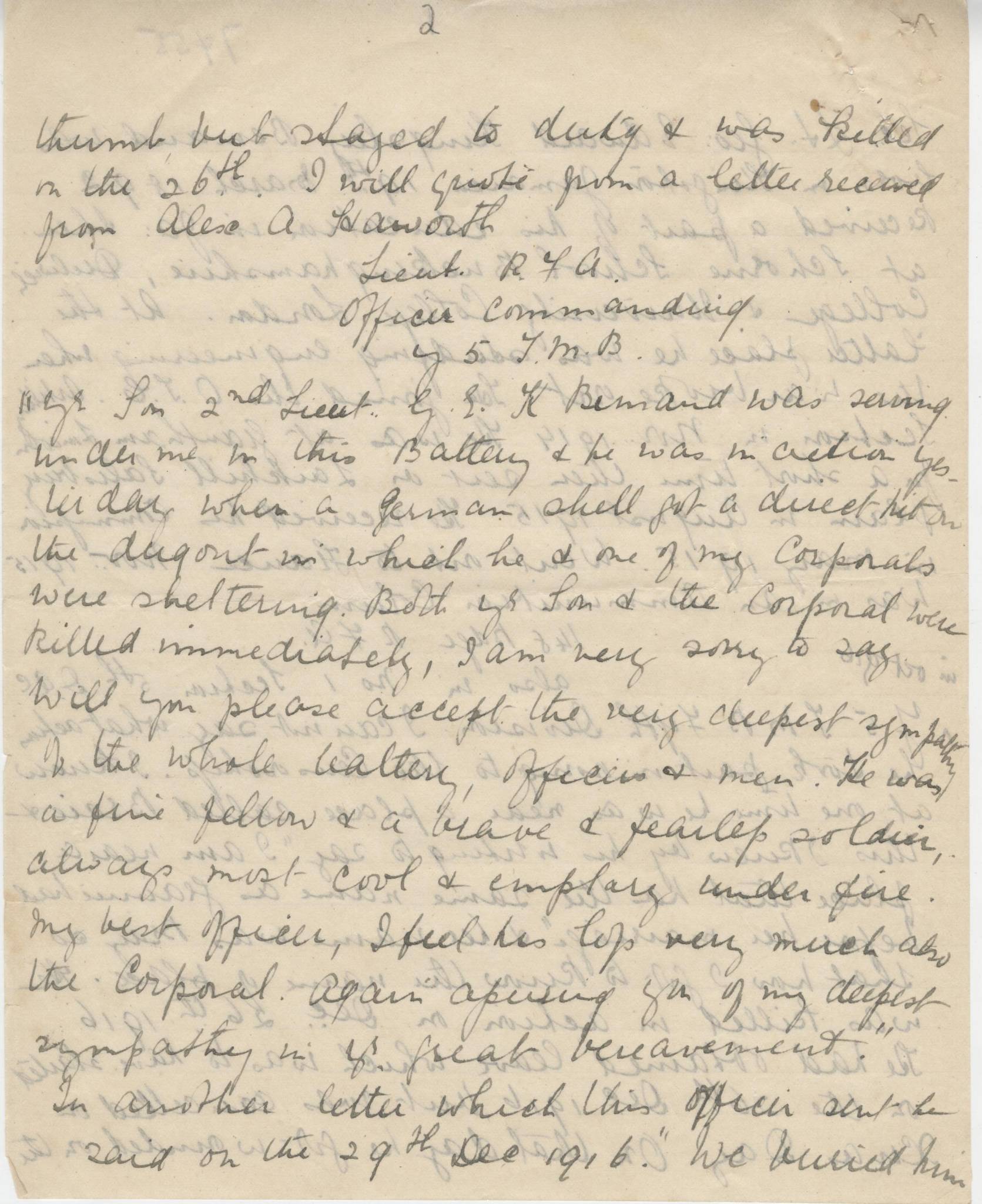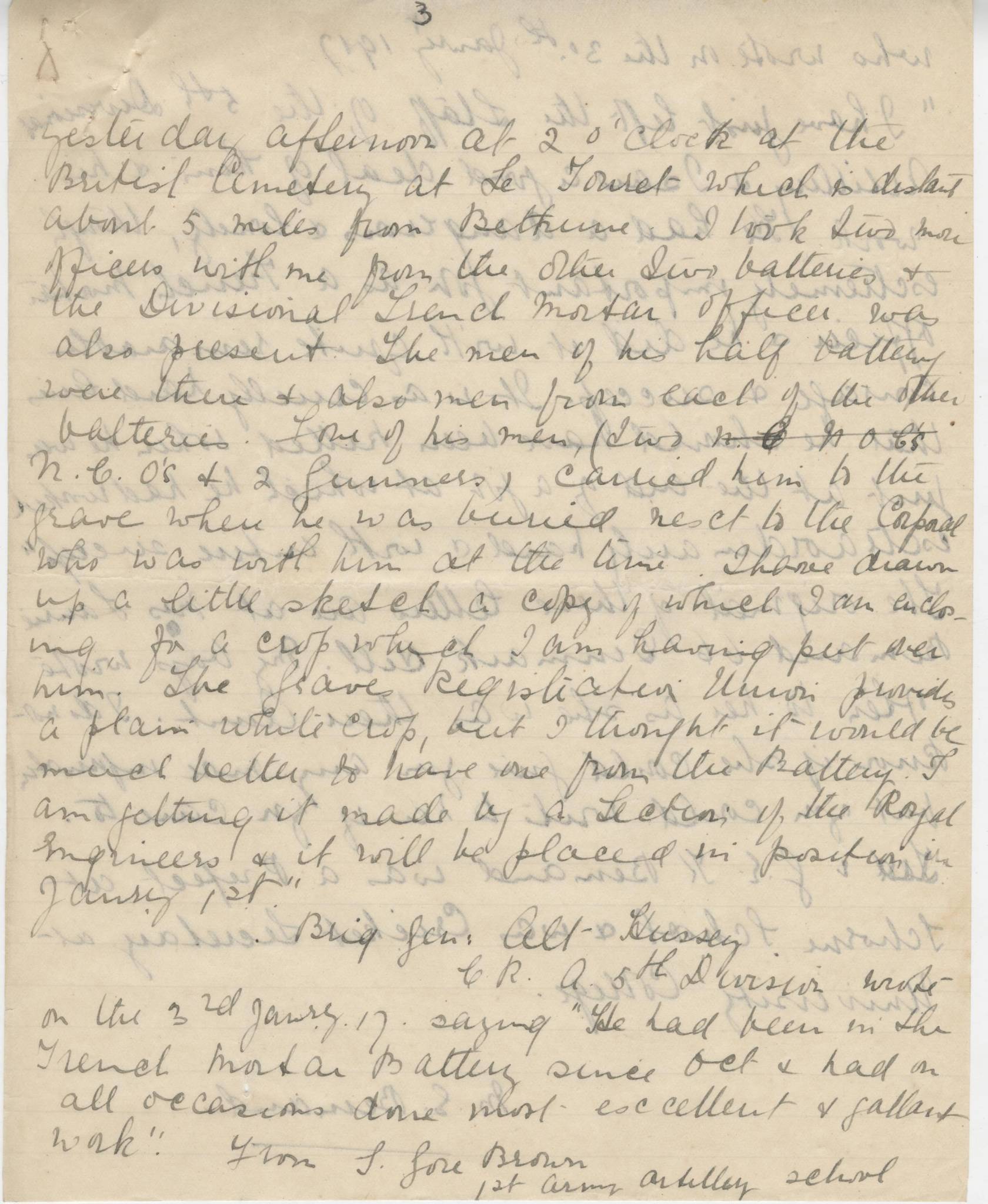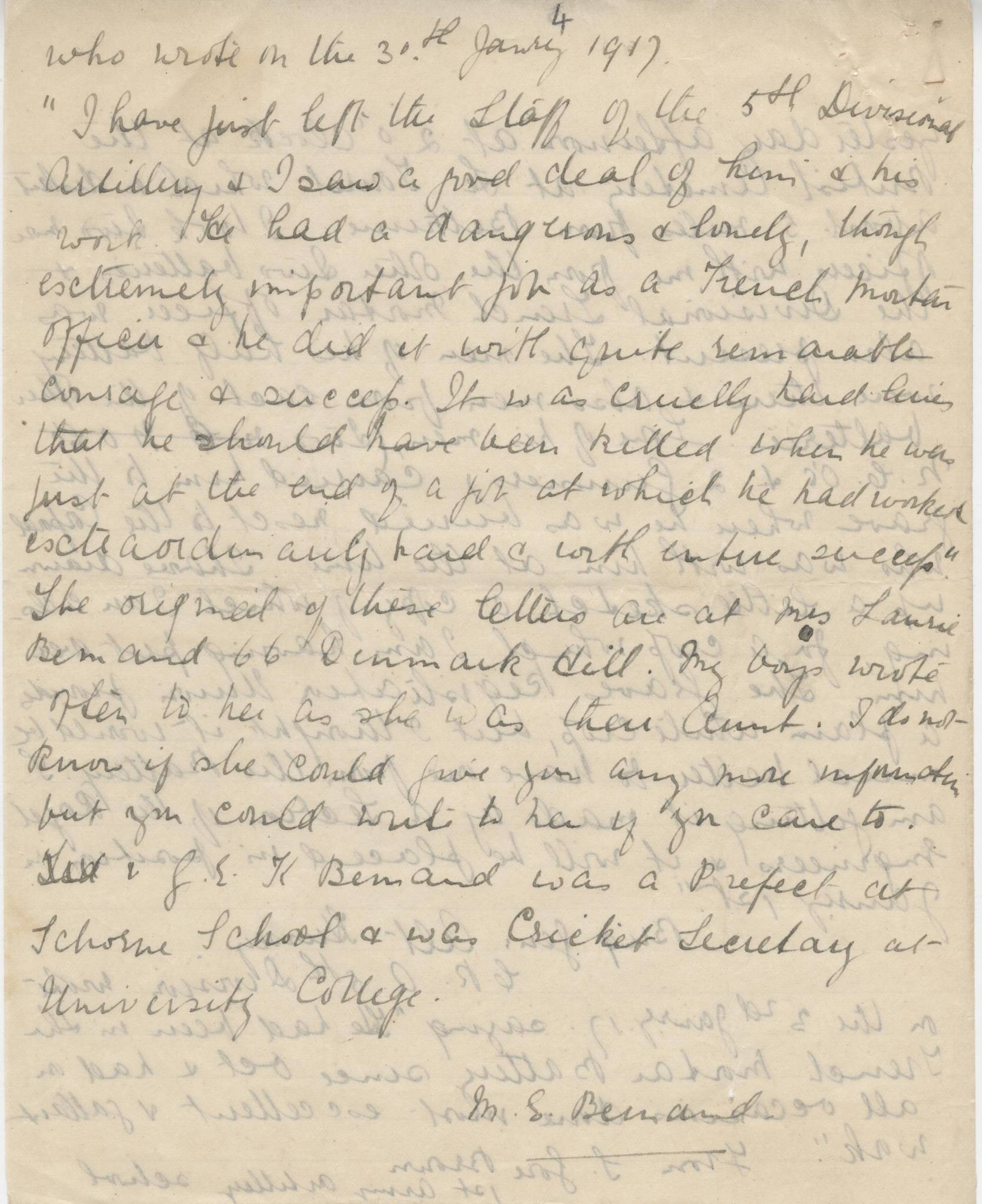 Sec. Lt. Geo. Edward Kingsley Bemand was born in Kingston, Jamaica 19th March 1892. Received a part of his education in Ja: then at [??Schorne School], Buckinghamshire, Dulwich College & University College, London. At the latter place he was studying engineering when the war broke out. He joined the O.T.C. Artillery Section in Nov. 1914. He was at Grantham, Lincoln for a short time then sent on Larkhill, Salisbury Plain in August 1915. He received his commission in May 1915. Went out to France Nov. 1915 was in an ammunition column.
148 Bdge. RFA
Also in No. 1 Section 5th D.A.C
In Oct. 1916 Y.5.T.M.B. Fifth Division. I cannot say what actions he took part in owing to the censorship. I know at one time he was near a place called Braie & this I knew by his writing to say "I am near a place that has the same name as Grannie had before her marriage" & her name was Bray, so that's how I got to know the name of place. He was killed in action on Dec. 26th 1916. He had obtained leave which was to have started on the 26th Dec. 1916, but was cancelled on Xmas Day. On that day he got wounded on the [2] thumb, but stayed to duty & was killed on the 26th. I will quote from a letter received from Alex. A. Haworth.
Lieut. R.F.A.
Officer Commanding
Y.5.R.M.B.
Your son 2nd Lieut. G.E.K. Bemand was serving under me in this battery & he was in action yesterday when a German shell got a direct hit on the dugout in which he & one of my Corporals were sheltering. Both your son & the Corporal were killed immediately, I am very sorry to say. Will you please accept the very deepest sympathy of the whole battery, officers & men. He was a fine fellow & a brave & fearless soldier, always most cool & exemplary under fire. My best officer, I feel his loss very much also the Corporal. Again offering you of my deepest sympathy in your great bereavement."
In another letter which this officer sent he said on the 29th Dec. 1916. "We buried him [3] yesterday afternoon at 2 o'clock at the British Cemetery at Le Touret which is distant about 5 miles from Bethune. I took two more officers with me from the other two batteries & the Divisional Trench Mortar officer was also present. The men of his half battery were there & also men from each of the other batteries. Some of his men (two N.C.O.s & 2 gunners) carried him to the grave when he was buried next to the Corporal who was with him at the time. I have drawn up a little sketch a copy of which I am having put over him. The Grave Registration Union forwards a plain white cup, but I thought it would be much better to have one from the Battery. I am getting it made by a section of the Royal Engineers & it will be placed in position on January 1st.
Brig. Gen. [???] Hussey
C.R.A. 5th Division wrote
on the 3rd January 17 saying "he had been in the French Mortar Battery since Oct. & had on all occasions done most excellent & gallant work."
From J. Fox Brown
1st Army Artillery School
[4] who wrote on the 30th January 1917.
"I have just left the Staff of the 5th Divisional Artillery & I saw a good deal of him & his work. He had a dangerous & lonely, though extremely important job as a Trench Mortar Officer & he did it with quite remarkable courage & success. It was cruelly hard times that he should have been killed when he was just at the end of a job at which he had worked extraordinarily hard & with entire success." The original of these letters are at Mrs. Laurie Bemand 66 Denmark Hill. My boys wrote often to her as she was their aunt. I do not know if she could give you any more information but you could write to her if you care to. G.E.K. Bemand was a prefect at [Schorne?] School & was Cricket Secretary at University College.
M.E. Bemand