AG Sivell First Widow Letter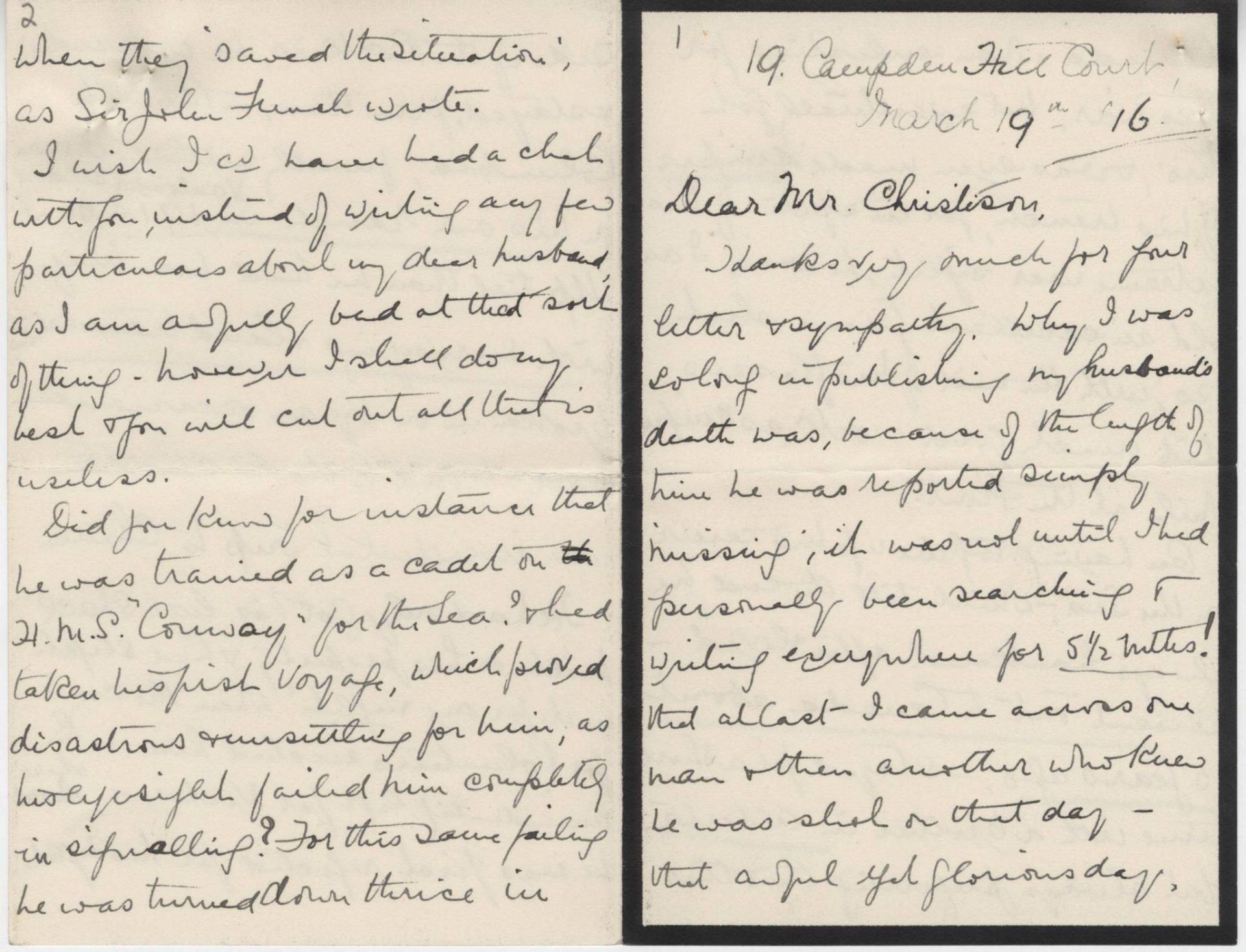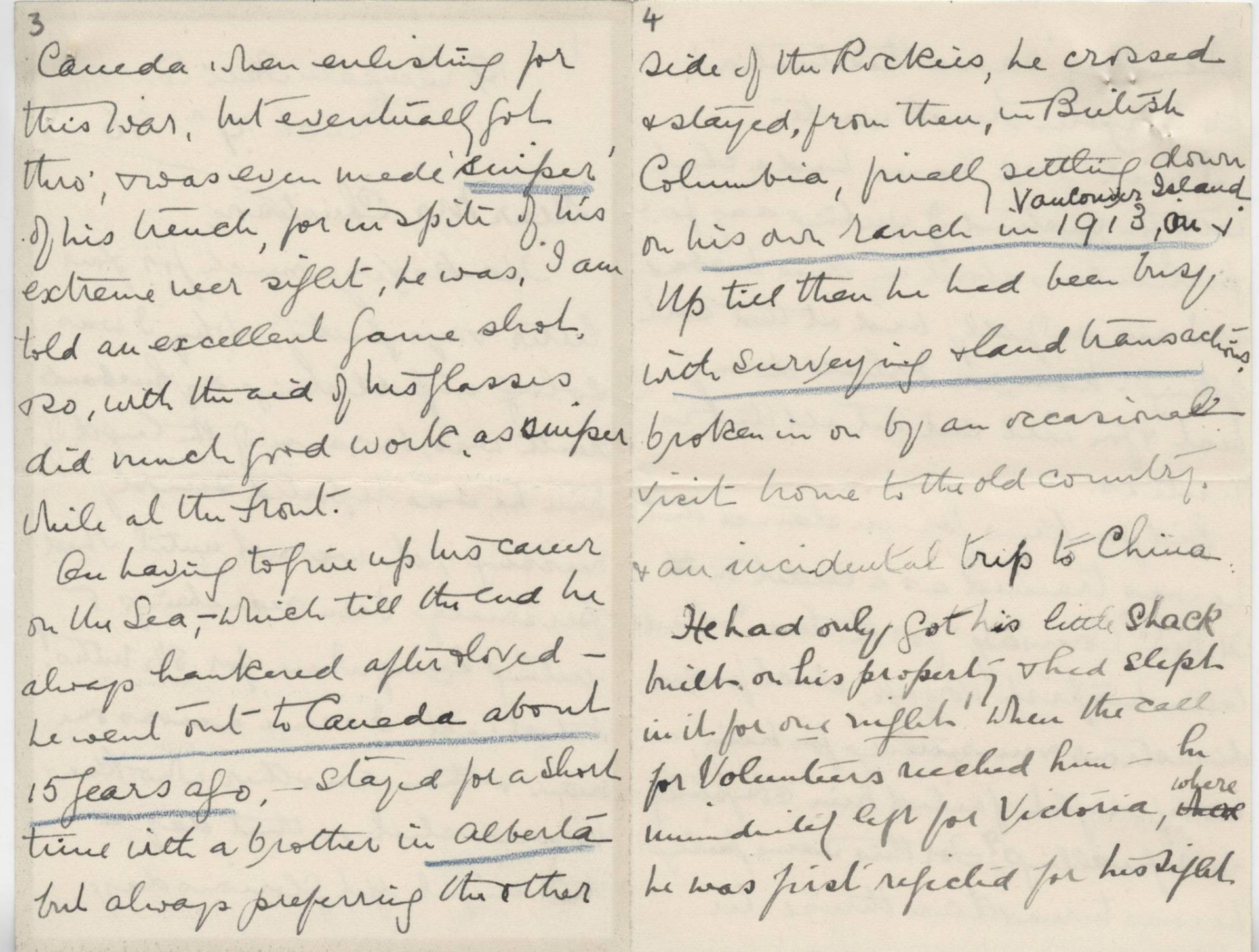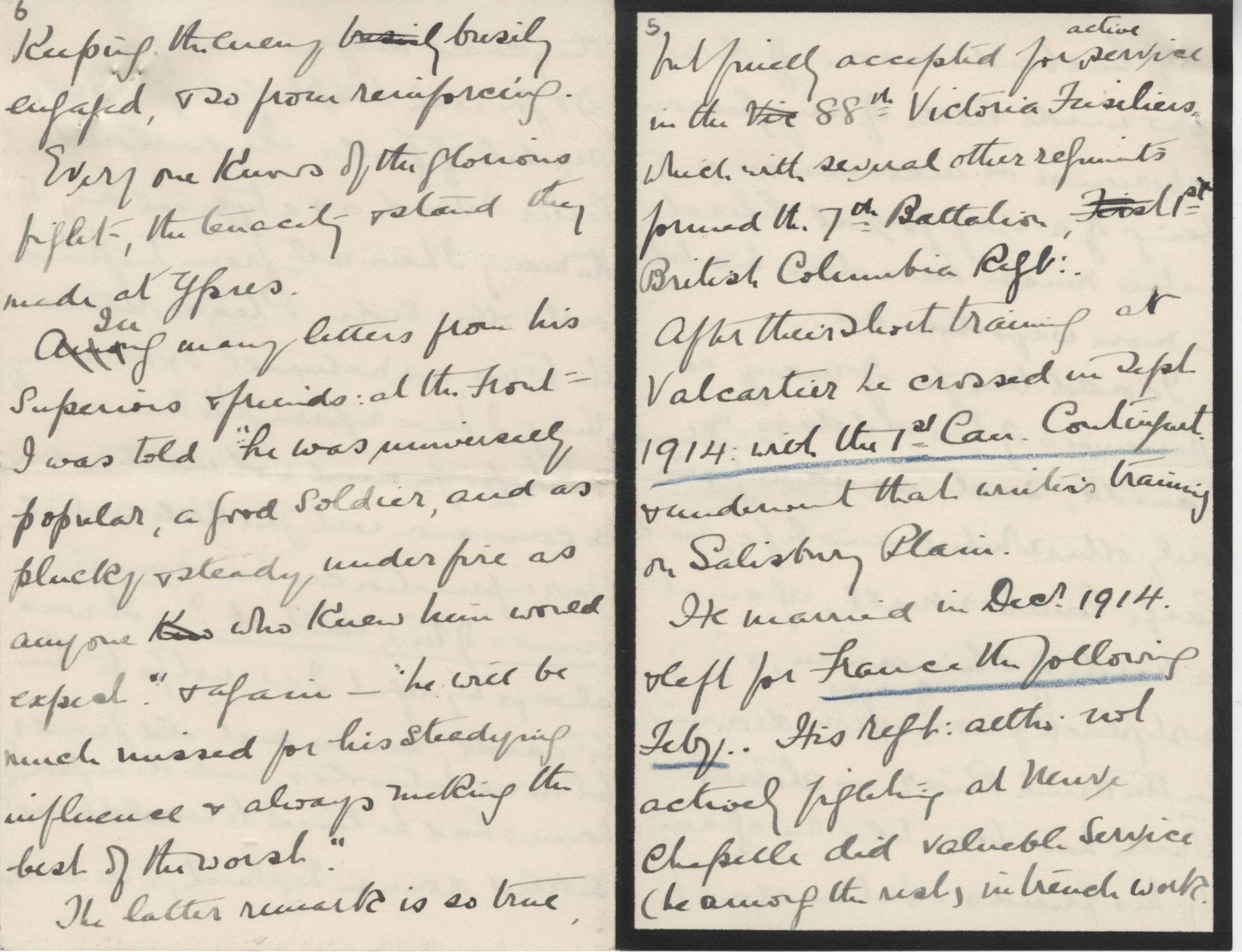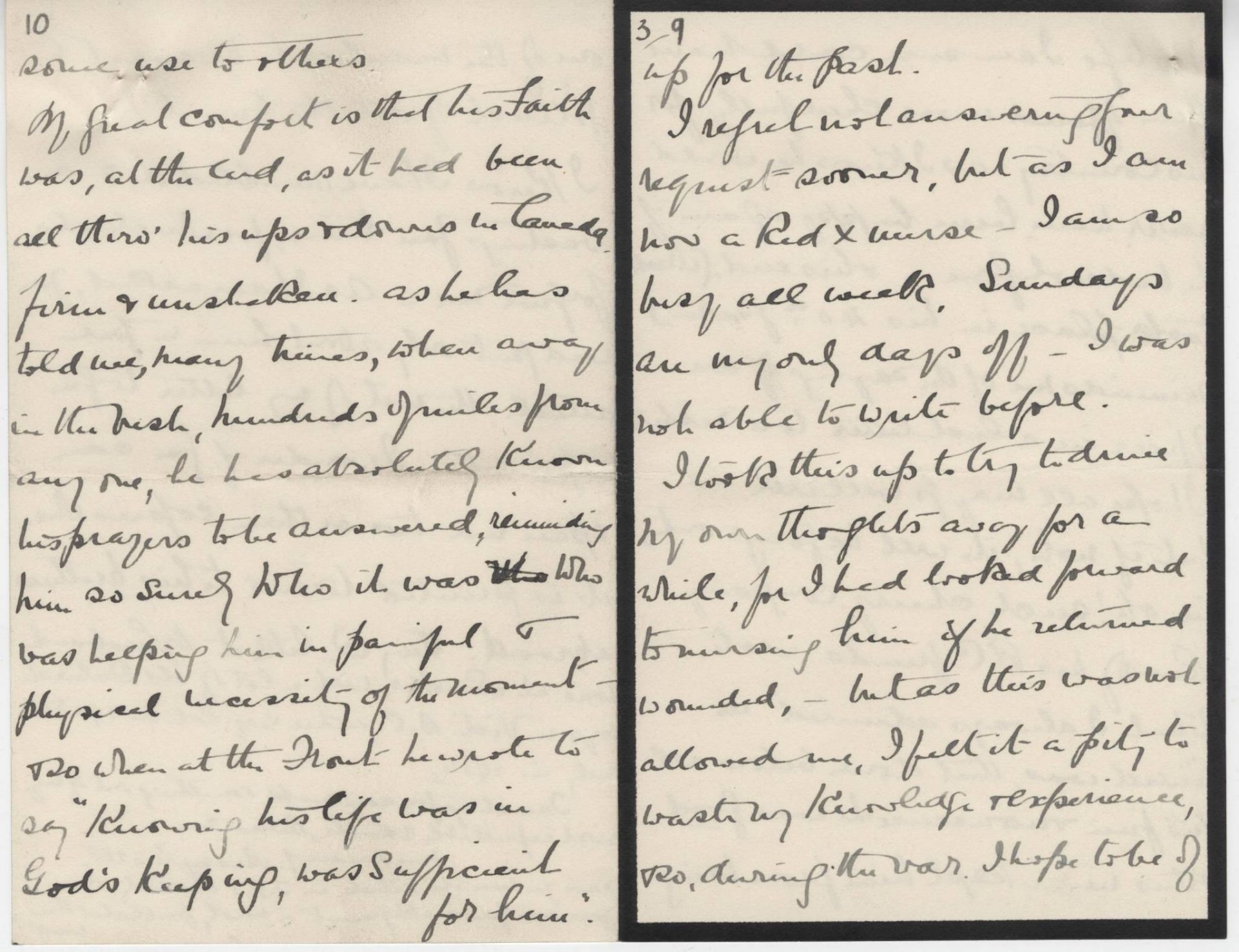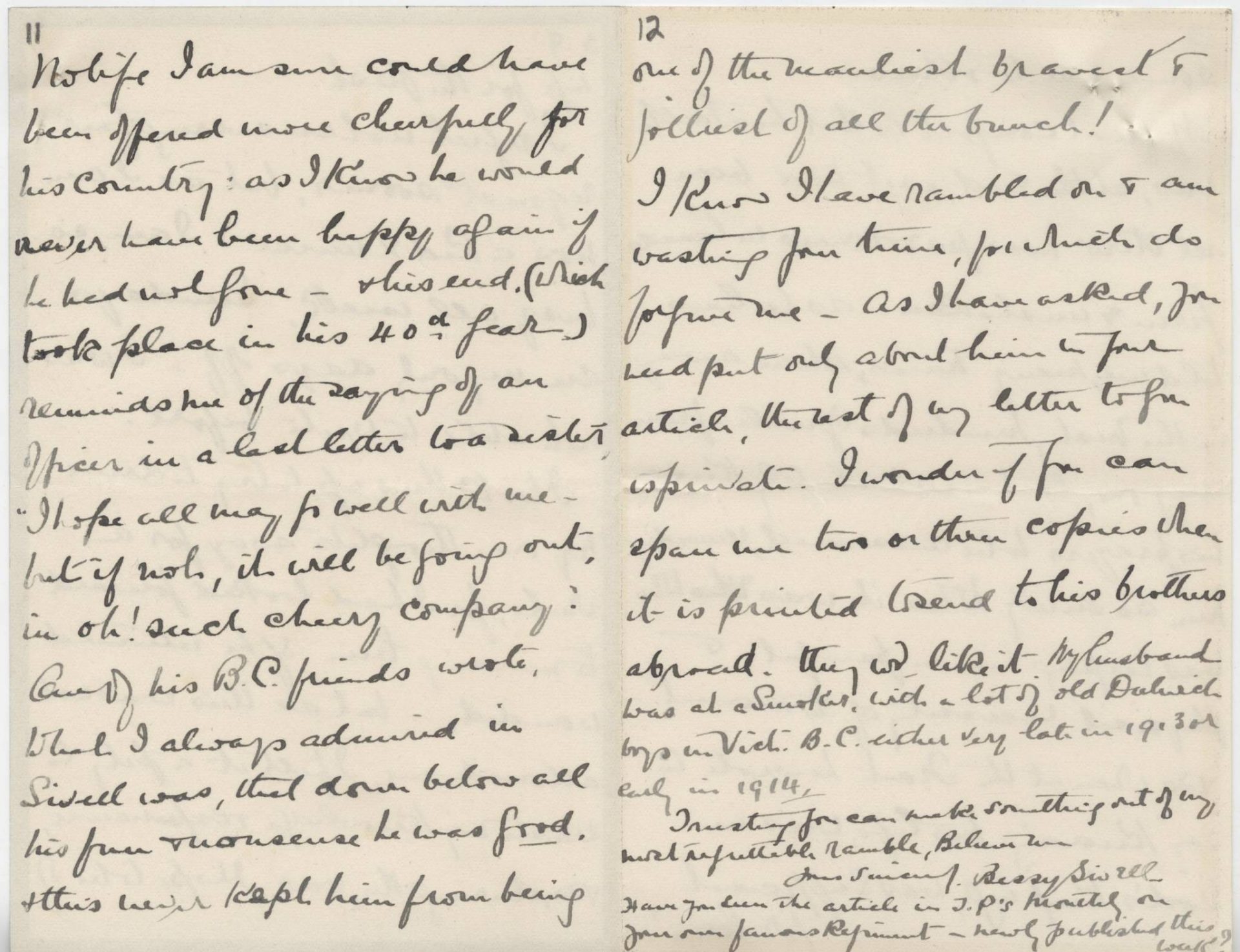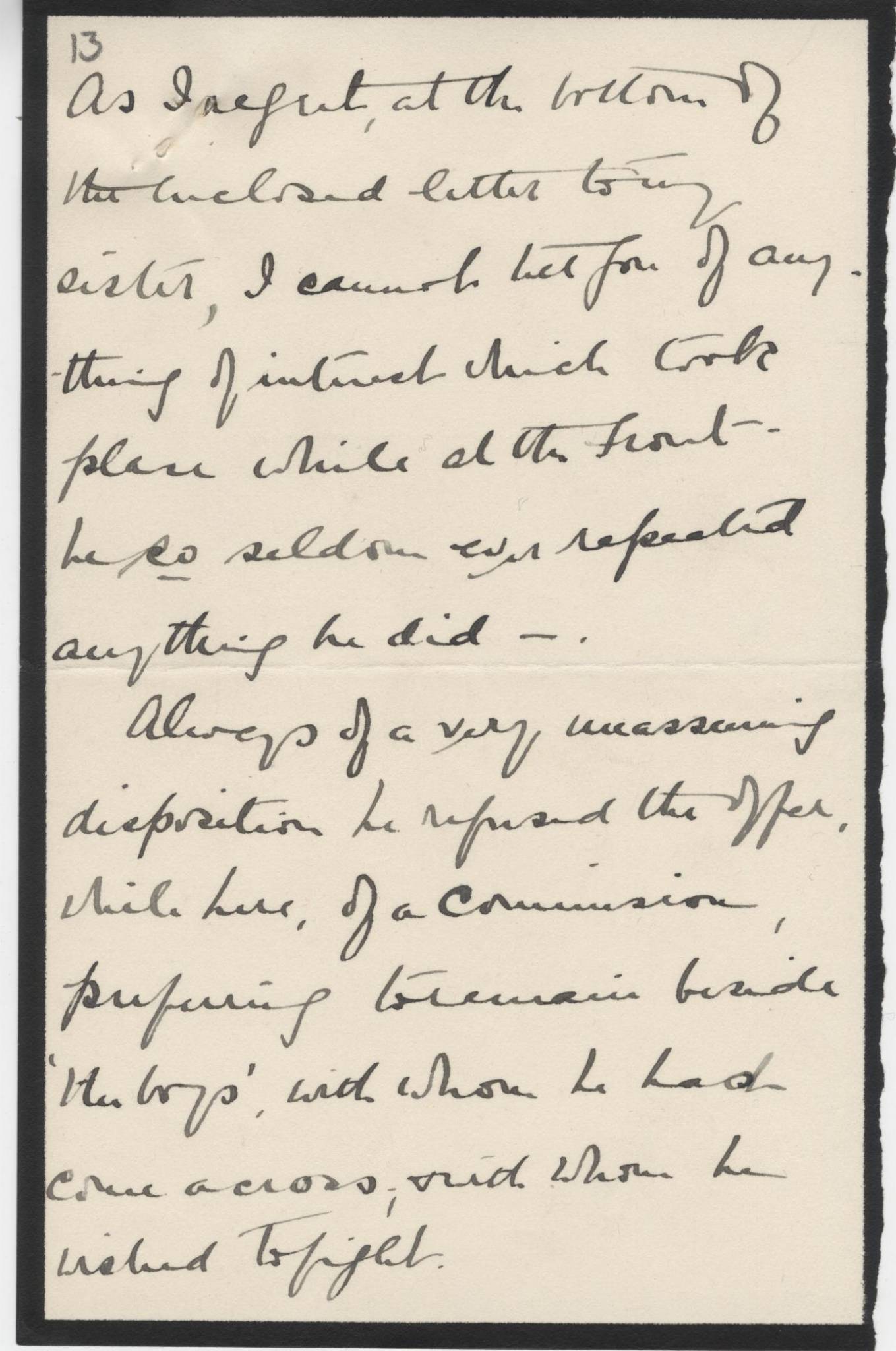 19 Campden Hill Court
March 19th '16
Dear Mr. Christison,
Thanks very much for your letter of sympathy. Why I was so long in publishing my husband's death was, because of the length of time he was reported simply 'missing', it was not until I had personally been searching & writing everywhere for 5 and a half months! that at last – I came across one man & then another who knew he was shot on that day – that awful yet glorious day, [2] when they 'saved the situation', as Sir John French wrote.
I wish I could have had a chat with you, instead of writing any few particulars about my dear husband as I am awfully bad at that sort of thing – however I shall do my best & you will cut out all that is useless.
Did you know for instance that he was trained as a cadet on H.M.S. 'Conway' for the sea? & had taken his first voyage, which proved disastrous + unsettling for him, as his eyesight failed him completely in signalling? For this same failing he was turned down thrice in [3] Canada, when enlisting for this war, but eventually got this, & was even made 'sniper' of his trench, for in spite of his extreme near sight, he was, I am told an excellent fame(?) shot, as, with the aid of his glasses did much field work, as sniper while at the front.
On having to give up his career on the sea, which till the end he always hankered after & loved – he went out to Canada about 15 years ago, – stayed for a short time with a brother in Alberta but always preferring the other [4] side of the Rockies, he crossed & stayed, from then, in British Columbia, finally settling down on his own ranch in 1913, on Vancouver Island.
Up till then he had been busy, with surveying & land transactions, broken in on by an occasional visit home to the old country, & an incidental trip to China.
He had only got his little shack built on his property & had slept in it for one night when the call for Volunteers reached him – he immediately left for Victoria, where he was first rejected for his sight [5] but finally accepted for active service in the 88th Victoria Fusiliers which with several other regiments formed the 7th Battalion, 1st British Columbia Regt.
After their short training at Valcartier he crossed in Sept. 1914: with the 1st Caen Contingent & underwent that winter training on Salisbury Plain.
He married in Dec. 1914 & left for France the following Feb.. His regt. altho' not actively fighting at Neuve Chappelle did valuable service (he among the rest, in trench work. [6]) Keeping the enemy busily engaged, & so from reinforcing.
Every one knows of the glorious fight, the tenacity & stand they made at Ypres.
In my many letters from his Superiors & friends at the front I was told 'he was universally popular, a good soldier, and as plucky & steady under fire as anyone who knew him would expect.' & again – 'he will be much missed for his steadying influence & always making the best of the worst.' The latter remark is so true [7], my husband was one of those who made little of any personal experience or inconvenience & being of a very jovial & liberal nature must have done his bit in more ways than one.
I could tell you of many experiences of his old days in Canada, such as saving singlehandedly the only other white man's life in a large lumber mill, against a horde of Chinamen; & of a most plucky rescue of a man from drowning in the Mud River – stories which have been told me again by his friends – but no doubt [8] they could be of no use to you. Do you wish his photograph. I will send it if you do. The enclosed letter I send as a typical one, of the many I have had from his friends on the other side. Please return it to me, as naturally I value any thing I have referring to him.
I hope you would not mention me in connexion with your little article, your information can have come through friends of his, can't it? It was always my regret I could not go to him in Canada, we were such old friends, but home duties & ties made it impossible however, had he lived he would have settled down in England, & so made [9] up for the past.
I regret not answering your request sooner, but as I am now a Red X nurse – I am so busy all week. Sundays are my only days off – I was not able to write before.
I took this up to try to drive my own thoughts away for a while, for I had looked forward to nursing him if he returned wounded – but as this was not allowed me, I felt it a pity to waste my knowledge & experience, so, during the war I hope to be of [10] some use to others.
My final comfort is that his faith was, at the end, as it had been all thro' his ups & downs in Canada, firm & unshaken. As he has told me, many times, when away in the bush, hundreds of miles from any one, he has absolutely known his prayers to be answered, reminding(?) him so sure of who it was who was keeping him in painful & physical necessity of the moment – so when at the front he wrote to say 'knowing his life was in God's keeping, was sufficient for him.' [11] No life I am sure could have been offered more cheerfully for his country, as I know he would never have been happy again if he had not gone – & his end. (Which took place in his 40th year) reminds me of the saying of an officer in a last letter to a sister 'I hope all may be well with me – but if not, it will be going out, in oh! such cheery company'.  One of his B.C. friends wrote, what I always admired in Sivell was, that down below all his fun & nonsense he was good, & this never kept him from being [12] one of the healthiest, bravest & fittest of all the bunch!
I know I have rambled on & am wasting your time, for which do forgive me – as I have asked, you need put only about him in your article, the rest of my letter to you is private. I wonder if you can spare me two or three copies when it is printed to send to his brothers abroad, they would like it. My husband was at a (Smoker?) with a lot of old Dulwich boys in Victoria, B.C., either very late in 1913 or early in 1914. Trusting you can make something out of my most regrettable ramble, believe me
Yours sincerely, Bessy Sivell
Have you seen the article in J.P's Monthly on your old Famous Regiment – newly published this week?
[13] As I regret, at the bottom of the enclosed letter to my sister, I cannot tell you of anything of interest which took place while at the front – he so seldom even repeated anything he did.
Always of a very unassuming disposition he refused the offer, while here, of a commission, preferring to remain beside 'the boys', with whom he had come across & with whom he wished to fight.